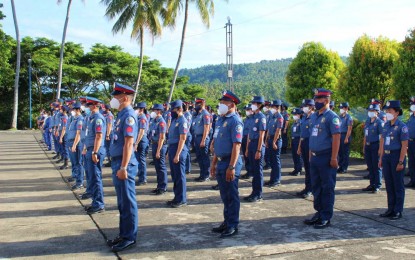 MANILA–The Philippine National Police (PNP) on Thursday announced it has placed all its stations nationwide on full alert as part of its efforts to secure the May 9 national and local elections (NLEs).
"We are all systems go. We have placed all police stations nationwide on full alert status," PNP chief Gen. Dionardo Carlos said in a statement.
As part of its election security preparations, the PNP on Wednesday simultaneously opened the "National Election Monitoring and Action Center" (NEMAC), and Regional Election Monitoring and Action Centers (REMACs).
Carlos said the NEMAC and REMACs will serve as the "eyes and ears" of the PNP Security Task Force NLE 2022 that will provide an updated report of all incidents related to election and security activities undertaken by the police.
He said that standby forces and quick reaction teams will be stationed on a 24-hour basis at the command posts in their respective headquarters.
"We will stand strong, we will finish strong and we will perform professionally for peaceful elections. The 225,000 strong men and women of the PNP are with the Comelec (Commission on Elections) to make sure that we guard the votes of our Filipino nation. That is a commitment. And to the Filipino people, your PNP will be there in all polling centers and polling precincts to make sure that your votes will be counted," Carlos said.
Meanwhile, the Armed Forces of the Philippines (AFP) said it is also ready to secure the elections with its police counterparts on election day.
"The AFP is prepared, we are ready, we have done the planning, we have done the organization, and we have set up our monitoring command centers. We are declaring 'red alert' by Friday so that we ensure that all AFP personnel across the country are accounted for by their commanders and ready for the election on Monday," AFP chief Gen. Andres Centino said.
He also assured the public that the AFP is strong and capable to perform its mandate of securing the May 9 elections. (With Priam F. Nepomuceno/PNA)
Source: Business Diary Philippines