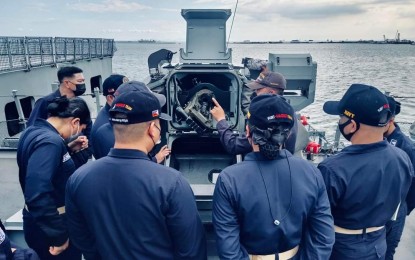 MANILA – Some 18 new Philippine Navy (PN) officers received training on the modern weapon systems of the country's first-ever missile frigate, the BRP Jose Rizal (FF-150).
The officers underwent a week-long training on Basic Combat Systems Officer Course which includes weapons familiarization training onboard the ship.
Among the learnings included the fundamental characteristics of the K6 .50 caliber QRB heavy machine gun, remote-controlled 30mm Mk-44 Bushmaster auto-cannon, 76mm Super Rapid multi-feeding gun, triple-trainable torpedo launch system, 6T decoy launch system, surface-to-air MBDA missile launch system, surface-to-surface missile launch system, and the Mistral-3 missiles.
"They were integrated with the daily routine of the weapons crew to perform the ship's weapons system sustainment program which includes the equipment operations procedure, equipment maintenance procedure, and weapons preparation doctrine," a post on its Facebook page read.
The BRP Jose Rizal and its sister ship, the BRP Antonio Luna (FF-151), are modern warships capable of surface, sub-surface, air, and electronic warfare using state-of-the-art electronic sensors, long-range missiles, acoustic guided torpedoes, and an embarked anti-submarine helicopter.
"With the arrival of surface-to-air and surface-to-surface missiles and other ammunition, an avenue for actual integration of future weapons officers is crucial in the transformation of the PN to be modern and multi-capable," the post read.
The BRP Jose Rizal was delivered to the Philippines in May 2020 and commissioned in July of the same year while the BRP Antonio Luna was commissioned on March 19, 2021.
The contract for the two ships was placed at PHP16 billion with another PHP2 billion for weapon systems and munitions. (PNA)
Source: Business Diary Philippines