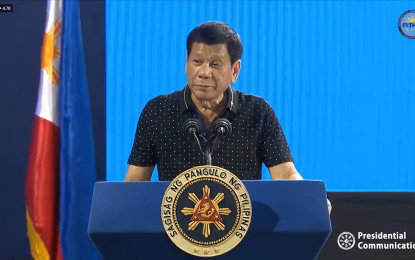 MANILA – President Rodrigo R. Duterte on Tuesday brushed aside the drug syndicates' possible retaliation, once he steps down from office in June 2022.
Duterte made the statement during the campaign rally of his ruling party, Partido Demokratiko Pilipino-Lakas ng Bayan (PDP-Laban), in Cainta, Rizal, as he acknowledged that he gains nothing but hate from his anti-narcotics campaign.
"Pero anong nakuha ko? Pababa na ako. Anong mabaon ko? Kindly tell. Galit. 'Yung gustong gumanti. Sige, hintayin ko kayo. Wala akong makuha. Ginawa ko lahat iyan para sa bayan (What did I get [from drug war]? I'm going to step down. What will I gain? Hatred. They want revenge. I will wait for them. I will gain nothing. I am doing this for the country)," he said.
Unfazed by the threat to his life after his term, Duterte maintained that his drug war would remain relentless until his last days in office.
Reiterating his warning that drug offenders who will resist arrest and offer violence will get killed, he said he would be "glad" to accept if he gets jailed because of drug-related deaths.
"Ito lang ang Pilipinas tapos sisirain mo. Hindi ako papayag na ganoon. 'Yung iba ayaw magsabi, 'P***** i** mo, patayin kita.' Ako sinasabi ko sa inyo, pumasok kayo sa droga at magkahulihan tayo, patay kayo. Marami naman, maluwang naman siguro ang cemetery ninyo dito (You're destroying the Philippines. I will not allow that. Some refuse to say, 'Son of a b**** I will kill you.' But I'm saying, if you are involved in illegal drugs and get arrested, you will get killed. The cemetery here is spacious)," Duterte said.
Not easy to see drug offenders killed
Duterte, however, admitted that he feels uncomfortable whenever there are reports that drug personalities resisting arrest get killed during the conduct of anti-drug operations.
He added that he merely launched the anti-narcotics drive to protect the Filipino people from the scourge of illegal drugs.
"Eto totoo, anong makuha ko (The truth is, what will I get)? Satisfaction? Why? Do you think it's easy to kill a human being? Ganoon kadali (Do you think it's easy)?" Duterte said.
He said he could not stomach the fact that families, whose members are drug addicts, become "dysfunctional."
He then reiterated his call on smugglers to drop illegal drugs.
"Galit talaga ako sa droga. Huwag kayong pumasok diyan. Ngayon, nakikinig man ang human rights. Kung ayaw mo itong pangyayaring ito. Drop, bitawan mo ang droga (I really hate drugs. Do not get involved in drugs. Now, if human rights advocates are listening, if you do not want this [killing] to happen, [syndicates] must drop drugs)," he said.
As of March 2022, around 14,888 high-value targets have been arrested in the country since the anti-narcotics campaign was launched in July 2016, according to the Real Numbers released by the Philippine Drug Enforcement Agency over the weekend.
About 336,796 individuals have also been arrested, while some 6,241 drug suspects have died during the conduct of a total of 233,356 anti-drug operations nationwide. (PNA)
Source: Business Diary Philippines