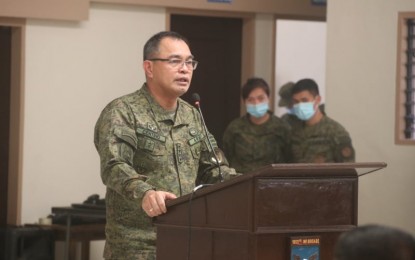 MANILA – As they secure the May 9 national and local elections on Monday, Armed Forces of the Philippines (AFP) chief Gen. Andres Centino reminded all military personnel to remain non-partisan and maintain professionalism while going about their poll duties.
"Our constitution mandates us to remain non-partisan and neutral thus we must perform our task to secure with utmost integrity, impartiality, and professionalism," he said in a statement Saturday night.
Centino also reminded all AFP personnel that they are bound by their sworn duty to protect the sanctity of the people's right to suffrage.
More than 45,000 composite members of the Army, Air Force and Navy were deployed all over the country to perform election duties as deputized by the Commission on Elections.
Centino also assured the Filipino people that the military organization is on red alert to guarantee a safe, accurate, free, and peaceful elections.
He said soldiers are always available to accommodate citizens who seek assistance during the election period.
"Let us all help each other to achieve peaceful and orderly elections, towards the shared dream of continuous progress and development for our country," Centino said.
As this developed, Department of National Defense Secretary Delfin Lorenzana reiterated his commitment to help ensure the orderly, honest, and peaceful conduct of the May 9 elections.
"To assist the Commission on Elections, more than 45,000 soldiers of the AFP have been deployed nationwide for election duty, especially in cities and municipalities tagged as 'election areas of concern'," he added.
Lorenzana said these troops will help prevent illicit and/or illegal activities that may compromise the safety and sanctity of the elections.
"Despite differences in opinion and preferences, may we all remember the potential of our vote to elect the right leaders of our democratic country," he added. (PNA)


Source: Business Diary Philippines