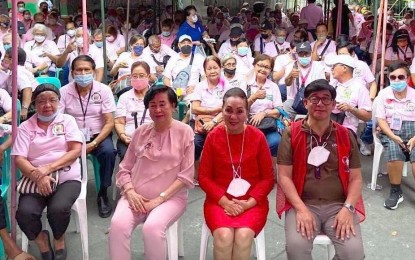 MANILA – The United Senior Citizens Party-list has vowed to implement provisions of the Constitution that will promote the economic welfare of the elders.
In a statement released by the group on Saturday, it emphasized that the law has enough provisions that can ensure the well-being of senior citizens.
"If we are to review our Constitution, we will discover that it has enough power to ensure the welfare of our senior citizens, we just need to implement them properly," the party-list group's second nominee, Roleo Ignacio, said inthe media release.
He cited Article II, Section 9 of the 1986 Constitution, which says that "The state shall promote a just and dynamic social order that will ensure the prosperity and independence of the nation and free the people from poverty through policies that provide adequate social services, promote full employment, a rising standard of living, and an improved quality of life for all."
One of the issues the senior citizens are dealing with is poverty, an obstacle to a secured old age. Though seniors receive mandatory pensions from the government, there is a pressing need to improve on this, Ignacio said.
As such, the current pension system requires careful consideration and evaluation. The government offers welfare services such as homes for the aged and Senior Citizens Centers to better address the plight of the Filipino elderly.
However, the effectiveness of such welfare services can only be confirmed by the level of satisfaction of their intended beneficiaries, the party-list said.
Poverty is the greatest obstacle to a secured old age. The United Nations Development Program has estimated that only 20 percent of people aged 60 or over in the world has any form of income security. Worldwide, only 30 percent of total elderly population is qualified for any form of pension and most of them live in more developed countries. Thus, older people continue to work for as long as they are physically able.
In the Philippines, older Filipinos enjoy a significant amount of care and support, including financial, from their family but most of them would opt to work if they have the chance so as not to be a burden to the family.
The monetary benefit they receive from the government may not be enough considering their daily needs, which include food and medicines but can hardly ease their burdens.
Ignacio said the current pandemic situation also poses a danger, especially for older people who still work in the informal sector as they face significant risks of developing severe symptoms.
"We can't blame them for wanting to work, they have to provide for their families, and the thought of them braving deprivation, sickness, dangers and even embarrassment break our heart. That is why we will do anything in our capacity to help and empower our beloved senior citizens," he added.
Ignacio said the United Senior Citizens Party-list will not stop until every single senior citizen in the country is accorded his rights and privileges regardless of their status, religion, beliefs and orientations. (PR)
Source: Business Diary Philippines