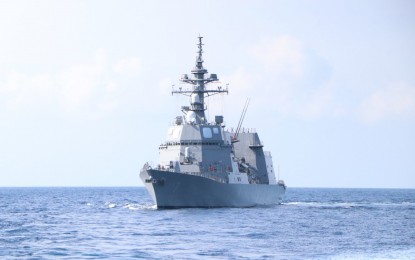 MANILA – A Japanese destroyer, the JS Suzutsuki (DD-117), is now docked at Subic Bay, Zambales for an official port call and overseas training of its crew, the Philippine Navy (PN) said Sunday.
"The visit to the country of JS Suzutsuki is intended for routine port replenishment and rest for the crew who are having their overseas training cruise," PN spokesperson Commander Benjo Negranza said.
The JS Suzutsuki was escorted by missile frigate BRP Jose Rizal (FF-150) which earlier conducted passing exercises (PASSEX) with the Japanese warship prior to its arrival and docking at Subic Bay on April 10.
The PASSEX includes communications exercises between the two ships.
"The arrival of the Japanese contingent in the country and the accommodation and support being extended to them underscores the strong bilateral relations between the Philippines and Japan. Both countries espouse the promotion of peace, stability, and maritime cooperation in the region," Negranza said.
JS Suzutsuki is one of the Akizuki-class destroyers of the Japan Maritime Self Defense Force which was designed to escort its helicopter-class destroyers and other larger surface combatants.
The class provides defense against surface, airborne and undersea threats. The Philippine Navy did not give any official announcement on how long the ship and its crew will be staying in the country.
Earlier, the foreign and defense ministers of Japan and the Philippines aired "serious concern" over the situation in the East and the South China Sea, where China and other littoral states have an ongoing maritime dispute.
Foreign Secretary Teodoro Locsin Jr., Defense Secretary Delfin Lorenzana, Japanese Foreign Minister Yoshimasa Hayashi, and Japanese Defense Minister Nobuo Kishi "strongly opposed" actions that may increase tensions in the area and agreed on ensuring the observance of the 2016 Arbitral Award and international law, particularly the United Nations Convention on the Law of the Sea.
"Japan concurred with the Philippines' long-standing objections to unlawful maritime claims, militarization, coercive activities, and threat or use of force in the South China Sea, and expressed its support for the July 2016 arbitral award on the South China Sea," a joint statement following the two nations' 2+2 talks read Saturday.
The Philippines emphasized that the arbitral award on the South China Sea is final and legally binding. China, the Philippines, and other littoral states are locked in a dispute over the South China Sea, where Beijing claims about 80 percent of the strategic water based on what it calls "historic rights".
Japan, meanwhile, is involved in a territorial row with China over Senkaku Islands in the East China Sea. (PNA)
Source: Business Diary Philippines