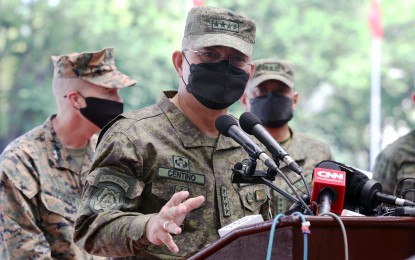 MANILA – Armed Forces of the Philippines (AFP) Chief of Staff Gen. Andres Centino has ordered units to intensify their focused military operations against the New People's Army's (NPA) extortion activities.
In a statement Wednesday, Centino said this would prevent the NPA from recovering from its defeats and prevent it from recruiting new members and committing atrocities.
"Let us continue to address the resource generation of the CTG (communist terrorist group) by stopping its extortion activities and seizing their firearms, ammunition, and other war materials," he said, adding that this would expedite the end of the local communist armed conflict in the country.
On April 11, the AFP seized during operations 22 high-powered firearms from NPA fighters in Agusan del Sur.
The 60th Infantry Battalion (60IB) of the Joint Task Force (JTF) Agila discovered 10 AK-47 automatic rifles, seven M-16 rifles, a light machine gun, an M-14 automatic rifle, M-79 grenade launcher, Garand rifle, and another M-16 rifle in Bagul River, Kasapa II, La Paz, Agusan del Sur.
The location of the arms cache was disclosed by an alias "Bolo", a former NPA rebel who recently surrendered to the Army.
The NPA's Guerilla Front 3 (GF3) secretary Maximo Catarata alias "Datu Makatindog" surrendered to the 60IB on March 31.
His son, the commanding officer of GF3, Renard Galos Catarata alias "SM", also surrendered with 12 other NPA combatants and 13 firearms to the same unit on February 26.
The JTF Agila has since accounted for five separate surrenders with two arms cache discoveries in the 60IB's areas of operation.
This resulted in 20 surrenders from GF3 and the seizure of 48 high-powered and one low-powered firearm.
The 10th Infantry Division – Police Regional Office XI Area Clearing Evaluation Board officially declared the dismantling of GF3 after the setting of the parameters of the AFP - Philippine National Police Joint Letter Directive 3 on April 12. (PNA)
Source: Business Diary Philippines