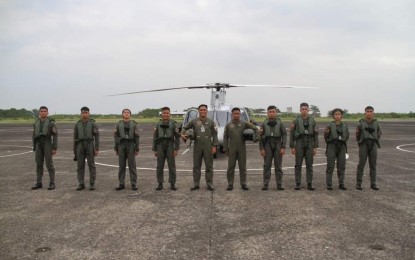 MANILA – At least 55 cadets of the Philippine Military Academy (PMA) Class 2022, who are set to join the Philippine Air Force (PAF) after graduation, have experienced a demonstration flight when they visited the 15th Strike Wing Wednesday to get a first-hand look at the aircraft and equipment used by the unit.
In a Facebook post Thursday, the 15th Strike Wing, the Air Force unit responsible for the overall tactical and ground air support operations in the Armed Forces of the Philippines, said the aerocadets interacted with the pilots and toured the 16th Attack Squadron's A-29B Super Tucanos Basic Aircraft Training Device.
"Selected cadets were also given the opportunity to ride the AW-109AH and the MD-520MG for a demonstration flight," the post read.
The 15th Strike Wing headquarters is located at the Major Danilo Atienza Air Base, Sangley Point in Cavite City and is equipped with a variety of ground attack aircraft and helicopters.
The future PAF officers also made a courtesy call to the 15th Strike Wing commander, Brig. Gen. Aristotle Gonzalez, who reminded the cadets to put into practice the lessons from the Academy. (PNA)
Source: Business Diary Philippines