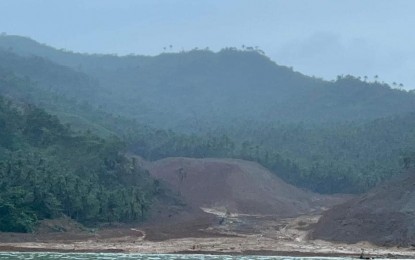 TACLOBAN CITY – A massive landslide induced by days of incessant rains buried the village of Pilar in Abuyog, Leyte killing at least two residents and injuring 96 others based on initial reports on Tuesday, the local government reported.
Mayor Lemuel Gin Traya said the local government was clearing the road heading to Pilar village and undertaking preemptive evacuation when the landslide happened.
"In fact, road clearing operations were already in place to access Pilar village, including its nearby communities to continue with the preemptive evacuation. Moments later, we were all terrified realizing that Pilar had been completely devastated by a disastrous landslide," Traya said in a Facebook post late Tuesday night.
Abuyog town police chief Capt. James Mark Ruiz said in a phone interview that the landslide happened around 3 p.m.
Debris covered 80 percent of Pilar village with about 100 houses.
The village, which is a 25-minute drive from the town center and also accessible by boat, has a population of 478, according to Ruiz.
The landslide also hit the nearby Lawaan village where 31 people were wounded. Search and rescue is still ongoing.
Both Pilar and Lawaan barangays are located at the foot of the mountain.
"When the landslide occurred, most of the residents there were evacuated since early Tuesday after minor landslides in nearby Bahay village," Ruiz told the Philippine News Agency (PNA).
Traya said the local government had exerted all means possible to save the people of Pilar. They were able to rescue and save wounded children, senior citizens, and injured and distressed individuals.
Week-long heavy downpours dumped by Tropical Depression Agaton triggered the erosion of rocks, soil, and vegetation.
The weather disturbance has already killed five persons in Abuyog town. Landslide victims are from the villages of Tib-o, Bahay, and Pilar. (PNA)
Source: Business Diary Philippines