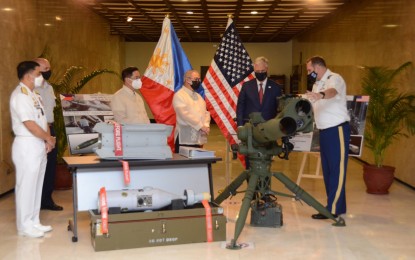 MANILA – The Philippine Army (PA) on Thursday said the US-donated "improved target acquisition system" (ITAS) has given it a capability similar to those being provided by anti-tank guided missile systems (ATGMs).
"It has a similar capability as that of the ATGMS to deny possible threats sighted on the ground," said Army spokesperson, Col. Xerxes Trinidad, in a message when asked whether the Army has existing ATGMs or these are in the procurement pipeline.
He added that the ITAS uses tube-launched optically tracked, wire-guided (TOW) missiles to defeat threats on the battlefield.
ATGMs are weapons designed to destroy tanks, armored transports, and other armored fighting vehicles.
These ITAS are part of a USD18 million precision-guided munition package given by the US government to the Armed Forces of the Philippines in late 2020.
Some of the weapons handed over include 100 TOW-2A missiles, 12 ITAS, 24 Mark-82 bombs, and associated guidance kits to convert these into smart bombs.
Trinidad said the ITAS is "already ready for distribution to our field units".
Also in the pipeline for the PA is the so-called "medium multipurpose assault weapon (MMAW), he added.
"What we have in the pipeline for the Army capability enhancement program is the procurement of MMAW," Trinidad said.
When asked to describe what type of weapon an MMAW is, Trinidad said it is similar to a recoilless rifle (RR) and can be used to defeat different threats like personnel, vehicles, and bunkers depending on the ammunition used. An RR is a lightweight artillery system or man-portable launcher.
"Similar to our 90RR or the Carl Gustav weapon, but more advanced that can easily be deployed in the field by the foot soldiers," he added. (PNA)
Source: Business Diary Philippines