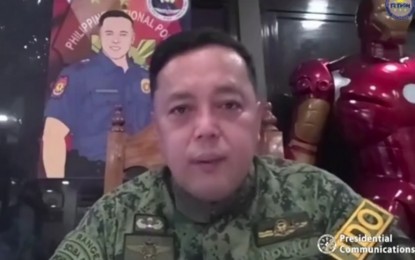 MANILA – Lt. Gen. Rhodel Sermonia is now the second-highest official of the Philippine National Police (PNP) after being named as the deputy chief for administration effective Monday.
In an order, PNP chief Gen. Dionardo Carlos named Sermonia as the replacement of Lt. Gen. Israel Ephraim Dickson, who is now on non-duty status ahead of his mandatory retirement on March 27.
Meanwhile, Lt. Gen. Ferdinand Divina replaced Sermonia as the deputy chief for operations, the PNP's third in command.
As deputy chief for operations, Divina will also serve as the new commander of the Joint Task Force (JTF) Covid-19 Shield, the enforcement arm of the national government in the implementation of quarantine rules and health protocols.
Divina is a member of the Philippine Military Academy (PMA) Class of 1988.
Meanwhile, Department of the Interior and Local Government (DILG) Secretary Eduardo Año said only President Rodrigo R. Duterte has the authority to appoint the replacement of Carlos, who is scheduled to retire on May 8, the eve of this year's national local and elections.
"(Only) the President will decide on that but it's still too early to discuss that," he said in a message to the Philippine News Agency.
Article VII, Section 15 of the 1987 Constitution states that "two months immediately before the next presidential elections and up to the end of his term, a President or Acting President shall not make appointments, except temporary appointments to executive positions when continued vacancies therein will prejudice public service or endanger public safety." (PNA)
Source: Business Diary Philippines