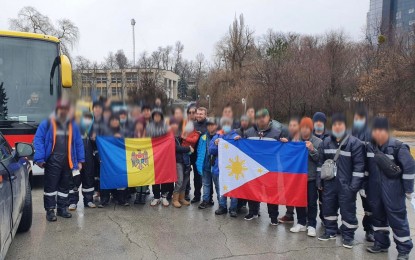 MANILA – A total of 25 Filipinos extracted from war-torn Ukraine to Moldova are now waiting to be repatriated home, the Department of Foreign Affairs (DFA) reported Thursday night.
The 25 left Moldova for Bucharest, Romania through the assistance of the Philippine Embassy in Hungary and Honorary Consul in Chisinau Victor Gaina.
Of this number, 21 are crew members of bulk carrier MV S-Breeze that had been on drydock in the port of Odessa, Ukraine since January 27, 2022.
The DFA said the Filipinos would depart Romania on Sunday for Dubai, where they will fly home via a Philippine Airlines flight. The group is expected to arrive in Manila by Tuesday.
In a virtual forum, Philippine Ambassador to Hungary Frank Cimafranca estimated that around 200 Filipino seafarers are still stranded in various port cities in Ukraine, including Odessa, Chornomorsk and Yuzhne, among others.
Cimafranca said the Embassy is monitoring them but he acknowledged that these seafarers cannot easily abandon their ships, especially those on board vessels where the crew members are all Filipino.
"As long as the vessels are not under attack or the lives of our seafarers are not in imminent danger then I think it's best for them to stay put in the vessel and also provided that they have still enough provisions," he said, positive that commercial ships would not be targeted intentionally.
"That's why it's safer right now, especially in the areas where there's ongoing fighting, they should just stay put in the vessel," he added.
The envoy said their evacuation would have to be coordinated with their respective manning agencies but if there are bunkers in the port, relocation is advisable.
"As Consul Gaina told me, if there will be a subsiding of the fighting or if a humanitarian corridor is provided for the safe evacuation of civilians then he can plan the evacuation of these seafarers if needed," he said.
"[S]tay put in your vessels for the moment and we will try to wait and see if there is a need for you to evacuate. Kung mayroong facilities in the port like hardened shelters, bunkers then better to also relocate there. Of course 'yong mga accidental firing minsan 'di naiiwasan 'yan kapag lumaki na 'yong gulo (If there are facilities in the port like hardened shelters, bunkers then better to also relocate there. In times of escalating conflict, accidental firing could happen)," he noted.
The Philippine Embassy in Warsaw has jurisdiction over Ukraine but the Embassy in Budapest is helping facilitate border crossings to Moldova, Romania, and Hungary, Cimafranca said.
A total of 19 Filipinos have been repatriated from Ukraine since the Russians invaded.
Four more Filipinos are waiting for a repatriation flight in Romania, 15 in Hungary and nine in Austria. Meanwhile, 19 were recently evacuated from Lviv, Ukraine to Poland. (PNA)
Source: Business Diary Philippines