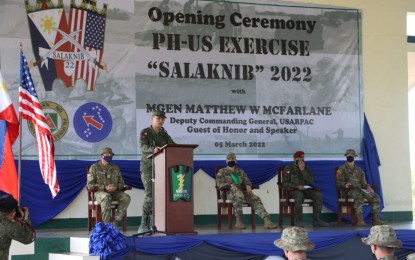 MANILA – The Philippine Army (PA) and the US Army Pacific (USARPAC) formally started the 20-day "Salaknib" Exercise that aims to deepen interoperability between the two armies at the 1st Brigade Combat Team (BCT) headquarters in Fort Magsaysay, Nueva Ecija last March 5.
"Salaknib demonstrates the long-standing partnership between PA and USARPAC," USARPAC deputy chief Maj. Gen. Matthew McFarlane, the guest of honor and speaker said in his speech, which was sent to reporters on Sunday.
"Salaknib", which means shield in Ilocano, is an annual bilateral combined exercise that aims to enhance the defense readiness of Filipino and American troops by developing tactical interoperability.
The 2022 edition of "Salaknib" focuses on the capability development of the 1st Brigade Combat Team (1BCT), the PA's primary combined arms, and rapid deployment unit.
US soldiers and Philippine Army troops from 1BCT, Training and Doctrine Command, Army Support Command, 51st Engineering Brigade, Civil-Military Operations Regiment, Army Artillery Regiment, Army Aviation Regiment, Armor Division, Light Reaction Regiment, Special Forces Regiment (Airborne), and First Scout Ranger Regiment, will be participating in the 20-day exercise.
"Salaknib" also showcases the US government's resolve to fulfill its alliance obligations in the region.
Last January 21, the PA and USARPAC teams completed the three-day inspection of the proposed training sites in Central Luzon to ensure availability, suitability, and training-worthiness.
PA chief Lt. Gen. Romeo Brawner Jr. earlier commended the "Salaknib" planning team for carrying out a thorough planning process aimed at ensuring the success of the bilateral exercise even amidst the pandemic.
"The conduct of combined training exercises between the Philippine and US armies will capacitate us in effectively dealing with the fast-changing security landscape of the Indo-Pacific region," he said. (PNA)
Source: Business Diary Philippines