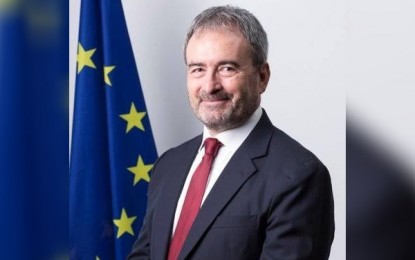 MANILA- European Union (EU) representatives went on a five-day working visit to the Philippines to review the country's compliance with 27 United Nations and International Labor Organization (ILO) international conventions, a key factor to retain its inclusion in the EU's Generalized Scheme of Preferences (GSP+).
The EU Delegation in Manila said the mission met with several Filipino government officials from February 28 to March 4 and discussed issues on human rights, the rule of law, labor relations, good governance, and the protection of the environment, among others.
"The effective implementation of international commitments on trade and sustainable development forms the basis of the Philippines' privileged access to the EU market. We have been working together with the Filipino government since the country joined the scheme in 2014," EU Ambassador to Manila Luc Véron said Friday.
"While my colleagues from Brussels recognize the level of engagement and the climate of frank discussions with the Filipino government, they also reiterated the need for tangible and measurable progress over time on issues of concern."
The EU GSP+ is a unilateral trade tool that eliminates tariffs on products coming into the EU from lower- to middle-income countries provided they effectively implement international conventions on sustainable development.
The information gathered by the EU's monitoring mission this week will be included in the next report that the European Commission will present to the Parliament and the EU Council of Ministers in the second half of 2022.
It will also include an assessment of progress regarding compliance with the 27 conventions by each GSP+ beneficiary.
The current EU GSP+ will expire by the end of 2023 and beneficiary countries would have to reapply to join the new scheme, the delegation said.
On February 21, Malacañang said human rights concerns are being addressed and that Manila is ready to work with the EU to shed light on the concerns they have raised by acting on alleged human rights abuses in the country. (PNA)
Source: Business Diary Philippines