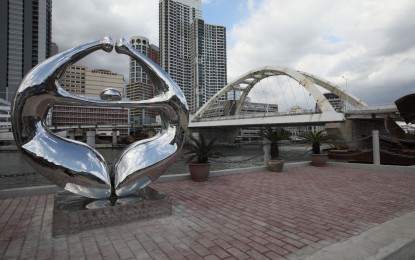 MANILA – The construction of the China-funded Binondo-Intramuros (B-I) bridge is almost complete and will be opened by April 2022, the Chinese Embassy in Manila said Thursday.
During an on-site inspection, Chinese Ambassador Huang Xilian said the bridge would significantly ease traffic congestion on both sides of the Pasig River, with its capacity to accommodate 30,000 vehicles daily.
"The project started on July 17, 2018 and has now been completed. The completion and the opening ceremony will be held next month," he said Thursday.
It features two arch ribs leaning against each other, a symbolic design Huang said reflects "the unity of China and the Philippines, side by side, hand in hand".
The envoy noted that "highly efficient and energy-saving" construction equipment, as well as locally-produced materials, were used during the construction of the bridge.
"The B-I Bridge purchased materials such as steel, engineering equipment, and building materials produced by local enterprises in bulk, with a total value of 2.47 billion pesos, which directly motivates the development of related industries," he said.
Apart from the bridge, a Philippine-China friendship park is expected to rise in the area through the donation of the Federation of Filipino-Chinese Chambers Of Commerce & Industry Inc. (FFCCCII), the Federation of Filipino-Chinese Association of the Philippines Foundation Inc. (FFCAP), and the Philippine Chinese Chamber of Commerce & Industry Inc. (PCCCII).
The envoy said "commercial procedures" have also been completed for the North and South Harbor Bridge, the Eastbank-Westbank Bridge, and the Palanca-Villegas Bridge projects in Manila.
Meanwhile, he disclosed that the China-funded Kaliwa Dam Project is "under construction" while the Samal Island to Davao City Connector project is on track.
"Once completed, it (Kaliwa Dam) will help meet the increasing water demand and provide thousands of jobs for Metro Manila. Additionally, the Chico River Pump Irrigation Project will irrigate 8,700 hectares of farmland in the Cagayan and Kalinga provinces and improve crop yield once completed," he said.
"There are still a host of government-to-government projects in progress, totaling billions of dollars," he added. (PNA)
Source: Business Diary Philippines