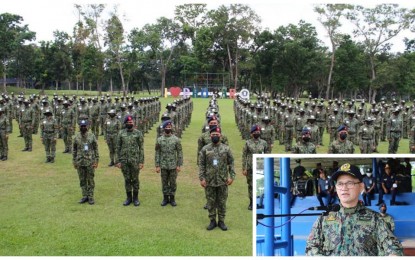 COTABATO CITY – More than 200 police trainees have undergone a 60-day Basic Internal Security Operation Course (BISOC) at the police regional headquarters in Parang, Maguindanao, a top police official here disclosed Wednesday.
Brig. Gen. Arthur Cabalona, Police Regional Office – Bangsamoro Autonomous Region in Muslim Mindanao (PRO-BARMM) director, said the training is designed to hone the trainees' abilities to be effective and skilled police officers through immediate action drills, land navigation, water search and rescue, among others.
The training, which started Tuesday afternoon, is being facilitated by the police's Regional Special Training Unit – BARMM.
"Its primary goal is to make the 221 trainees become well-rounded public servants," Cabalona said in a statement.
He said the BISOC Class MALANTAS will train inside Camp Brig. Gen. Salipada K. Pendatun in Parang, Maguindanao.
Cabalona said he expects the training to help improve the skills and knowledge of the trainees in security operations such as counter-terrorism, anti-criminality, special operations, and anti-insurgency operations to maintain peace and security in the region.
"Surrendering ourselves in training is an integral part of fulfilling our promise to become well-rounded public servants. It represents a prime opportunity to expand our knowledge base as public servants," the official said. (PNA)
Source: Business Diary Philippines