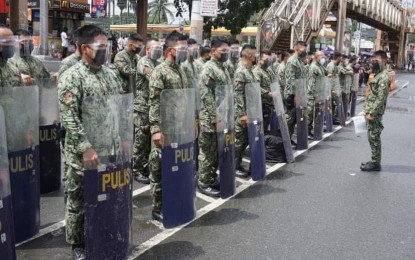 MANILA – The National Capital Region Police Office (NCRPO) on Sunday said vaccinations of its frontline personnel continue despite declining coronavirus disease 2019 (Covid-19) cases in Metro Manila.
"At the moment, 99.41 percent or 23,414 NCRPO personnel were fully vaccinated while 0.32 percent or 75 personnel received (the) first dose of the vaccine only. The remaining 64 police officers comprise the 0.27 percent unvaccinated personnel due to health conditions and other reasons," NCRPO chief Maj. Gen. Vicente Danao Jr. said in a statement.
"We are one with the government in ensuring that (the) majority of the population gets vaccinated against Covid-19 to finally put an end to this pandemic. As our personnel face the challenges in the frontline of this battle, we wanted to ensure that they too are protected against the disease," Danao said.
Meanwhile, the number of fully vaccinated PNP personnel is placed at 97.79 percent, or 219,914 out of a total of 224,878 personnel.
Those waiting for a second dose are placed at 1.88 percent or 4,226, while those unvaccinated are at 0.33 percent or 738.
The number of police officers who received a booster or third shot is now at 113,420 or 51.57 percent.
The number of active Covid-19 cases in the PNP further dropped to 88 as of Sunday.
In its latest Covid-19 tracker, the PNP said this is lower than Saturday's 100 active cases.
Only four new infections were logged, the lowest so far since a high of 548 new cases recorded on January 14.
The PNP also reported 16 new recoveries, raising the number of recovered personnel to 48,550 out of a total of 48,766 confirmed cases since the pandemic began in March 2020.
The number of deaths remained at 128 as no new fatalities were reported as of this time. (PNA)
Source: Business Diary Philippines