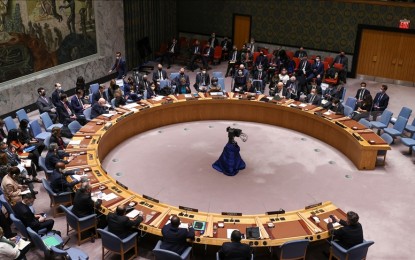 WASHINGTON – The United Nations Security Council voted on Sunday to convene a special General Assembly session to discuss Russia's military actions in Ukraine on Monday.
The resolution that called for the rare emergency session was approved by 11 nations, while Russia voted no and three countries -- India, the United Arab Emirates, and China -- abstained.
In her address after the procedural vote, which requires a nine-member majority to pass, US Envoy to UN Linda Thomas-Greenfield recalled the draft UN Security Council resolution that would have condemned Moscow's attack on Ukraine, which was blocked by Russia.
"Russia vetoed Friday's resolution. But as I have said before, Russia cannot veto our voices. Russia cannot veto the Ukrainian people and Russia cannot veto the UN Charter. Russia cannot and will not veto accountability," she said.
"Now the Security Council has taken an important step forward toward that accountability for the first time in decades," she added. "The council members who supported this resolution recognize that this is no ordinary moment."
Ukraine's representative to UN Sergiy Kyslytsya expresses his gratitude to the member states who supported the request to call the UN General Assembly emergency session.
Turning to Russian President Vladimir Putin's threat to use nuclear weapons in Ukraine, the envoy said: "It is extremely alarming that the Russian President has resorted today to open nuclear blackmail. The world must take this threat very seriously".
Russia's UN envoy, Vasily Nebenzia, said the current crisis broke out because UN members "turned a blind eye to the crimes perpetrated by the Ukrainian nationalists in Donbas" not as a result of the launch of the Russian special military operation in Ukraine".
"The Russian army does not threaten civilians in Ukraine. It's not shelling civilian infrastructure. A threat to civilians is now posed by Ukrainian nationalists and they are using them now as human shields," said Nebenzia.
Drafted by the US and Albania, Friday's resolution was seeking to hold Russia accountable for its aggression against Ukraine, reaffirm Ukraine's sovereignty, and demand that Moscow withdraw its forces.
Russian President Vladimir Putin announced a "special military operation" in Ukraine on Thursday, days after recognizing two separatist-held enclaves in eastern Ukraine.
He claimed that Moscow had no plan to occupy its neighbor, but wanted to "demilitarize" and "denazify" Ukraine.
In response, Western powers imposed financial sanctions on Moscow and announced military and humanitarian support for Kyiv. (PNA)
Source: Business Diary Philippines