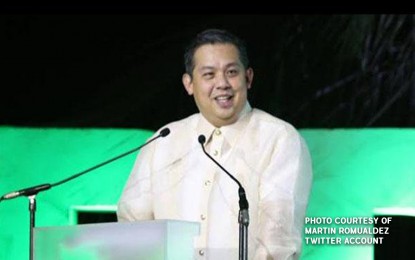 MANILA – Lakas-Christian Muslim Democrats (CMD) vice presidential candidate Davao City Mayor Sara Duterte, running alongside the pride of Ilocandia former Senator Ferdinand "Bongbong" Marcos Jr. of the Partido Federal ng Pilipinas (PFP), whipped up the "Solid North" during her campaign in Northern Luzon and proved critics wrong that it was already shattered and moribund, according to House Majority Leader and Leyte 1st District Rep. Martin G. Romualdez.
"Barnstorming the country's northern provinces for several days, the Davao City mayor disproved notions that the politically-defining vote was already an afterthought and instead further solidified it, this time behind the UniTeam," Romualdez, president of Lakas-CMD, said in a news release on Sunday.
The Marcos-Sara tandem swept away the "Ilocano country," notching the support and endorsements of political leaders from governors down to municipal officials, various groups and grassroots organizations, and securing the affirmation of voters.
Duterte launched her north-bound sortie by making whistle stops in the heart of Nueva Ecija where she stirred up support from Novo Ecijanos, who crowded the streets, chanted her name and followed her convoy as it inched around the capital.
In between meeting voters where she observed Covid-19 protocols, Duterte inaugurated the separate offices in the province of her support groups Kay Inday Sara Lilipad ang Pilipinas (KISLAP) and Marcos Sara Duterte Alliance (MASADA).
Up in the north, Duterte secured the support of Nueva Vizcayanos led by party-mate and Nueva Vizcaya lone district Rep. Luisa Lloren Cuaresma, who, along with the province's key leaders, welcomed her at the town hall of capital Bayombong.
Duterte appreciated the backing of the province's officials and the strong showing of support by the residents, who went out of their homes and offices amid the hot weather just to show their support and wished her on her vice presidential journey.
Campaigning in the heart of Cagayan Valley, Duterte, who is also the chairperson of the Lakas-CMD assured herself and Marcos of the solid and overwhelming support of Cagayanos and the residents of Isabela led by their leaders.
It was in Isabela and Cagayan where the Solid North fully reared its existence as a large throng of people welcomed Duterte and mobbed her convoy the minute it touched the ground.
"I can say that even before the campaign began, we in Isabela were already all-in for BBM-Sara UniTeam. Ngayon pa kaya na nakita namin ang sinseridad nila (Even now we can see their sincerity), especially Mayor Inday Sara," said Isabela Gov. Rodolfo "Rodito" Albano III, whose province has a million voters.
Albano, a stalwart of administration party Partido Demokratiko Pilipino-Lakas ng Bayan (PDP-Laban), said President Rodrigo Roa Duterte prioritized Isabela in development projects, as such "it is no wonder why local folks easily warmed up to his daughter."
Albano led provincial officials, including his brother Rep. Tonypet Albano of the Lakas-CMD and Vice Governor Bodjie Dy of PDP-Laban in welcoming Duterte.
In Cagayan, Governor Manuel Mamba moved to consolidate the Solid North by assuring Duterte the votes of Cagayanos, especially that the BBM-Sara has the support of the Nacionalista Party (NP) of which he is a member, and in gratitude to President Duterte's huge development projects in the province.
Sara told the people of Cagayan and Isabela that her father's legacy programs of infrastructure development and anti-illegal drugs will remain and continue under the BBM-Sara leadership.
The vice presidential candidate relished the Solid North with her penultimate campaign right in the home province of her tandem where she was treated to a spectacle of support by Marcos, Ilocos Norte officials and the province's residents.
Marcos told the adoring crowd that swarmed their rally how he was extremely lucky to have Duterte as his running mate, describing the mayor as a perfect fit for their tandem and its message of unity.
Marcos' son, Sandro Marcos, who is running for Congress, urged voters from the north to protect Duterte.
"Inday Sara has done a lot for Apo BBM. Whenever we go to Davao, Apo Inday Sara would tell her kababayans, protect President Bongbong," the younger Marcos said.
"That's why I want to say to all of you, the north, let us protect Vice President Inday Sara Duterte," he added, urging voters to give the same number of votes to Duterte as his father would get.
Ilocos Norte Govenor Matthew Joseph Marcos Manotoc also vowed to make the BBM-Sara big winners in his province in the May polls.
Duterte campaigned in Ilocos Sur where the province's political kingpin and Narvacan Mayor Luis "Chavit" Singson vowed to deliver more than 90 percent of the province's total votes to Duterte and Marcos.
Singson led provincial officials, including his son Gov. Ryan Luis Singson and other local officials in welcoming the vice presidential candidate.
La Union Gov. Emmanuel "Pacoy" Ortega lll of the Nationalist People's Coalition (NPC) also joined local officials from the Solid North in rallying behind the presidential vice presidential tandem of BBM-Sara.
Capping her foray in northern Luzon, political leaders in Pangasinan led by reelectionist Governor Amado Espino III and Pangasinan congressman and gubernatorial candidate Ramon "Mon-Mon" V. Guico III on Saturday also endorsed the BBM-Sara tandem, adding up Pangasinan to the Solid North's overwhelming support of the UniTeam candidates.
Duterte's presence in Northern Luzon is part of her Mahalin Natin ang Pilipinas Ride (MNPR), a south-north journey that she launched early this month in Davao City to promote patriotism, love and unity. (PR)


Source: Business Diary Philippines