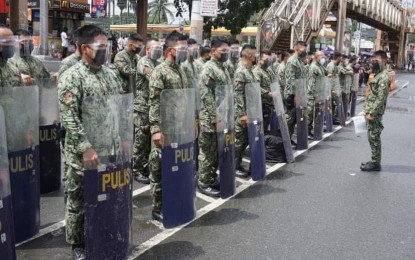 MANILA – The Philippine National Police (PNP) on Tuesday recorded only seven new coronavirus disease 2019 (Covid-19) cases, the lowest so far for this year.
Based on the latest Covid-19 tracker, the police force said this is also the lowest number of daily cases in over a month since a peak of 548 new infections on January 14.
Active infections also dropped to 202 from Monday's 258 active cases.
Some 63 new recoveries, meanwhile, raised the number of recovered PNP personnel to 48,415 out of a total of 48,745 confirmed infections.
The death toll remains at 128.
Meanwhile, fully vaccinated PNP personnel were placed at 97.62 percent or 219,527 out of 224,875 personnel.
Those waiting for a second shot are at 2.03 percent or 4,556 while those unvaccinated are at 0.35 percent or 792.
Those who already got a booster dose are now at 48.56 percent or 106,603. (PNA)
Source: Business Diary Philippines