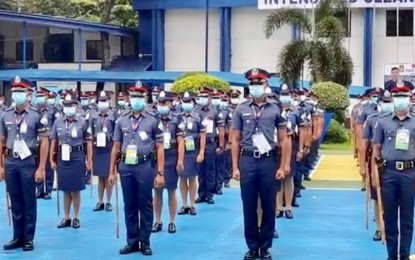 MANILA – Another 61 police officers have recovered from the coronavirus disease 2019 (Covid-19), the Philippine National Police (PNP) reported on Monday.
In its latest Covid-19 tracker, the police force said this raised the total recovery count to 47,814 out of a total of 48,589 confirmed cases since the pandemic started in March 2020.
Another 25 new infections were reported, bringing the active case tally to 648. This is lower than Sunday's 684.
The number of fatalities remained at 127 as no new deaths were recorded.
Meanwhile, the number of fully vaccinated PNP personnel was placed at 97.34 percent, or equivalent to 218,901 out of the 224,890 personnel.
Those waiting for a second shot are placed at 2.28 percent or around 5,125.
Those who got a booster or third shot account for 43.73 percent or 95,736 while those unvaccinated were placed at 0.38 percent or 864. (PNA)
Source: Business Diary Philippines