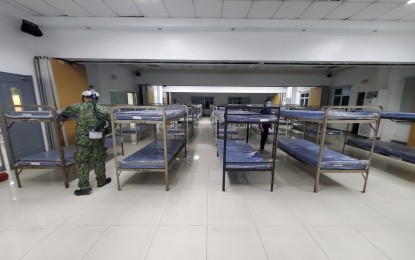 MANILA – The number of active coronavirus disease 2019 (Covid-19) cases in the Philippine National Police (PNP) further dropped to 166 as of Wednesday.
In its latest Covid-19 tracker, the PNP said this is lower than Tuesday's 202 active cases.
Only six new infections were logged, the lowest so far since a high of 548 new cases recorded on January 14.
The PNP also reported 42 new recoveries, raising the number of recovered personnel to 48,456 out of a total of 48,750 confirmed cases since the pandemic began in March 2020.
The number of deaths remained at 128 as no new fatalities were reported as of this time.
Meanwhile, the number of fully vaccinated PNP personnel is placed at 96.67 percent or 219,632 out of a total of 224,875 personnel.
Those waiting for a second dose are placed at 1.98 percent or 4,452 while those unvaccinated are at 0.35 percent or 791.
The number of police officers who received a booster or third shot is now at 107,889 or 49.12 percent. (PNA)
Source: Business Diary Philippines