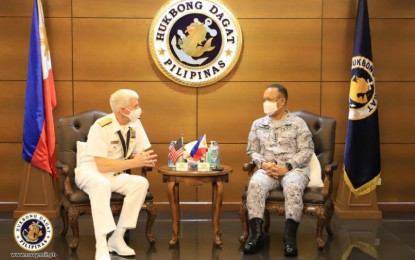 MANILA – Philippine Navy (PN) chief Vice Adm. Adeluis Bordado thanked US 7th Fleet commander Vice Adm. Karl Thomas for his support for "a free and open Indo-Pacific region".
Bordado made this pronouncement during Thomas' courtesy call to PN headquarters in Roxas Boulevard, Manila Tuesday afternoon.
In a statement Wednesday, PN public affairs office chief Commander Benjo Negranza said the two naval leaders "reaffirmed both navies' enduring relationship and cooperation."
Thomas said good high-level discussions such as courtesy calls are "some of the things that we can do together to try to improve our interoperability and improve our strong alliance."
"We should always keep our lines of communications open so that whenever we need something and you need help also we can extend things the best way as an ally," Bordado added.
Thomas' visit is among the routine interactions between the PN and its US counterpart that greatly contribute to the sustainment and furtherance of bilateral relations between Manila and Washington DC.
The US 7th Fleet is the largest of the US Navy's forward-deployed fleet, maintaining a continuous forward presence in the Indo-Pacific region.
Its area of operations covers more than 36.1 million square nautical miles spanning from the International Date Line to the India/Pakistan border; and from the Kuril Islands in the north to the Antarctic in the south.
This encompasses 36 maritime countries and five Mutual Defense Treaty allies namely, Australia, South Korea, Japan, Thailand, and the Philippines. (PNA)
Source: Business Diary Philippines