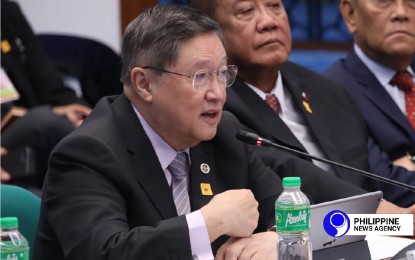 MANILA – Finance Secretary Carlos G. Dominguez III said he is confident thecountry's strong macroeconomic fundamentals would help sustain the domestic economy's continued recovery despite risks posed by external issues.
In an interview over CNBC on Friday, Dominguez said the national government has reduced the amount of bridge financing from the Bangko Sentral ng Pilipinas (BSP) from USD10.8 billion (PHP540 billion) to USD6 billion (PHP300 billion).
"We expect to pay this off by June this year," he said.
The national government has requested the BSP for funding accommodation since 2020 to boost the funds used on programs to address the impact of the pandemic.
Initially, a PHP300 billion short-term repurchase agreement was made in March that year, and this was redeemed by September.
Three PH540-billion bridge financing requests were also made and these were approved by the BSP's policy-making Monetary Board in October 2020, January 2021, and July 2021.
In January this year, the national government again requested forprovisional advance amounting to PHP300 billion, which authorities said is a sign of improving public finances.
The New Central Bank Act, or Republic Act 7653, allows the BSP to extend provisional advances to the national government equivalent to 20 percent of its average revenues in recent years.
Relatively, authorities are on the lookout for external factors seen to impact the global economic recovery and these include the looming increase in the Federal Reserve's key rates, which is projected to be hiked by as much as 50 basis points this year starting next month.
Dominguez said authorities are "watching very carefully the trends of interest rates overseas" vis-à-vis the government's exit strategy.
"However, we are very confident that the Philippines remains in a sound position to weather external headwinds on account of its sound macroeconomic fundamentals. So, we are already beginning the process of disengagement and normalization," he added. (PNA)
Source: Business Diary Philippines