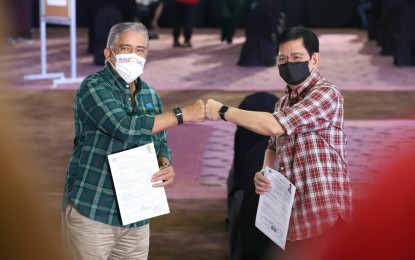 MANILA – Partido Reporma standard-bearer Senator Panfilo "Ping" Lacson and his running mate Senate President Vicente "Tito" Sotto III got a warm welcome while enjoying a stroll in Baguio on Saturday.
This was shown by the fact that the Partido Reporma bets were often seen indulging requests for quick selfies from residents and tourists they came across with during their visit to the city.
Lacson and Sotto prayed at the Baguio Cathedral Saturday afternoon to thank the Lord for another fruitful week. They also walked along Session Road on their way to Burnham Park, where they had coffee and hung out for a while as they wrapped up their two-day trip to the summer capital.
Some of their staff as well as traveling journalists tasked to document the campaign trail of the Lacson-Sotto tandem followed them outdoors. Baguio City residents also could not help but approach the presidential duo because they were happy to see them in town.
Mask-wearing people of all ages took souvenir photos with veteran lawmakers.
In a chance interview at the Baguio Cathedral, Lacson said he is delighted to know that the tourism industry is slowly recovering in this popular weekend getaway destination.
"Remember, ang Baguio hindi lang [taga]-Baguio City ang residents na nandito. Kahapon 'nung namasyal kami doon sa Tam-awan (Village), ang dami roon mga taga-Nueva Ecija, taga-Cavite, kung saan-saan nanggagaling (Remember, in Baguio, you will not only find Baguio City residents here. Yesterday, when we also toured the Tam-awan Village, many people there said they were from Nueva Ecija, from Cavite, from a lot of different places)," Lacson told reporters.
Lacson also mentioned that most of the tourists he met there looked for Sotto. They had separate schedules Friday morning, the presidential bet told them, but he was pleased to find out that people have come to appreciate the bond they shared as longtime partners in public service.
"That's a good indication because it appears that people are becoming conscious of our tandem. I was about to narrate to him (Sotto) the experience that I had yesterday. A lot of people really asked about him: 'Senator Ping, where is the Senate President? Why isn't he with you?" noted Lacson.
Sotto visited Baguio City together with his daughters, actress-singer Ciara Sotto and Diorella "Lala" Sotto, who is also running in the 2022 elections as second nominee of AGAP party-list—a group that seeks to represent farmers and agricultural workers.
Baguio City Mayor Benjamin Magalong accompanied the veteran public servants during their weekend tour. They were also joined by Partido Reporma senatorial bet Guillermo Eleazar and adopted candidate Emmanuel "Manny" Piñol.
"To me, the very warm reception given to us by Mayor Magalong and the people of Baguio, which I know represents the bigger part of Cordillera, is more than enough. I cannot ask for more," Sotto said of the kind of hospitality extended to them by the city mayor and his constituents.
Earlier in the day, Lacson accepted his "Lifetime Achievement Award" from the Philippine Military Academy Alumni Association, Inc. (PMAAAI).
He said he was truly honored to receive that recognition, which not a lot of graduates get because some of them were not fortunate to live and serve that long.
Lacson, who belonged to PMA Class 1971, was awarded together with three of his fellow cavaliers -- Anselmo Avenido Jr. (Class 1967), Melchor Rosales (Class 1968) and Edgar Aglipay (Class 1971) -- during their alumni homecoming event at the Borromeo Field, Fort Gregorio del Pilar.
Eleazar was also granted an Outstanding Achievement Award while Magalong was presented with a Cavalier Award in the same ceremony. Michael Ray Aquino, a longtime ally of Lacson, was likewise honored for his outstanding contributions for the alumni affairs.
The former police chief accepted the award together with his fellow cavaliers who were also recognized for their public service, achievements, and contributions in their respective fields.
The theme of this year's PMA General Assembly and Membership Meeting was "Mga PMA Cavaliers: Tunay na kaagapay ng Sambayanang Pilipino sa Panahon ng Pandemya o Kalamidad."
A member of PMA "Hinirang" Class of 1987, Eleazar expressed gratitude to the PMAAAI for acknowledging his leadership in the PNP wherein he initiated aggressive reforms to further improve the services of the police that also includes the internal cleansing campaign.
"To be recognized by your own alma mater is really something that will really make you proud because this simply means that you lived up to its teachings and expectations. In the case of the PMA, living up to its core values of courage, honor and integrity," Eleazar said. (PNA)


Source: Business Diary Philippines