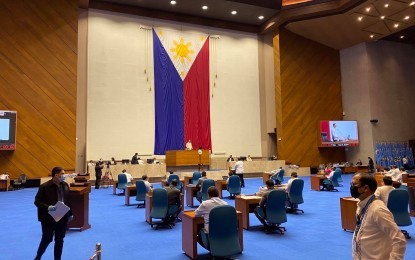 MANILA – The House of Representatives on Wednesday night ratified the bicameral conference committee report on the measure proposing amendments to the Public Service Act (PSA) in a bid to attract more foreign investments.
During the plenary session, the chamber approved the final version of the proposed amendments to the PSA, which seek to ease the restriction on foreign investments in public services.
The bill effectively opens up to 100 percent foreign equity on all economic sectors in the country except the transmission and distribution of electricity, water pipeline and sewerage, seaports, petroleum pipeline, and public utility vehicles.
House Ways and Means Chair Rep. Joey Salceda described the proposal as "the most important economic reform" since the Corporate Recovery and Tax Incentives for Enterprises (CREATE) Act.
Salceda added that the measure is the closest that the country has been to overcome the "growth overhang caused by the 1987 Constitution's foreign equity restrictions."
"It's a massive reform because it opens us to foreign capital. We need a lot of foreign capital. We have plenty of domestic talent, but they leave for abroad because the capital required to hire them is invested abroad," he said.
He noted that the Philippine economy is the most restrictive among Association of Southeast Asian Nations (Asean) countries.
He said the final version no longer requires burdensome reviews by the entire national security council for so-called critical infrastructure.
The proposal, he said, would yield "massive" impacts on job creation and investments.
"We expect an increase in FDIs (foreign direct investments) by around PHP299 billion over the next five years from the final version of the sectors that will be opened up as a result of the PSA amendments. We also expect gross value added (GVA) growth in these areas to cause a GDP (gross domestic product) growth rate that is 0.47 percentage points higher than the baseline," Salceda said.
He said the main economic benefit of the PSA amendments is that it provides local and oligopolistic players in key sectors with a credible threat of external competition.
"Credible threat of competition is seen as a pro-competitive measure that reduces monopoly or oligopoly power (to set prices or provide services at low quality) and encourages local players to improve efficiency," he said.
Salceda also cited that the ratified version will be "a boon to consumers".
He said that apart from the fact that more competition means lower prices generally, the proposal also imposes a provision that if public utilities and public services exceed the rates set by the regulators, they have to refund the excess collections from the public, and also pay fines.
"Consumers stand to benefit from the PSA amendments immediately. Of course, in the long run, we are also bound to create more jobs and maybe even be able to send many OFWs home, as we expect new FDI due to the reform to come from capital-starved public services," he said.
During the same plenary session, other bills that were ratified by the Lower House include:
1) House Bill 78 and Senate Bill 2094, providing for the definition of public utility;
2) HB 5793 and SB 2395, requiring the registration of subscriber identity module (SIM) cards;
3) HB 3255 and SB 1241, establishing Timbangan ng Bayan Centers in all markets nationwide;
4) HB 10610 and SB 1155, fixing the validity period of the license to own and possess, registration, and permit to carry firearms outside of residence or place of business;
5) HB 9458 and SB 643, granting night shift differential pay to government employees;
6) HB 10698 and SB 2124, strengthening the Sangguniang Kabataan;
7) HB 10658 and SB 2449, strengthening the policies on anti-trafficking in persons;
8) HB 8818 and SB 2365, strengthening the regulatory framework for the Philippine Deposit Insurance Corporation (PDIC); and
9) HB 10701 and SB 2421, granting mandatory continuing benefits to health workers during the Covid-19 pandemic and other future public health emergencies. (PNA)
Source: Business Diary Philippines