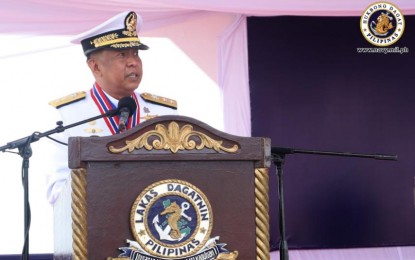 MANILA – Rear Adm. Nichols Driz formally assumed command of the Philippine Fleet on Tuesday.
Philippine Navy (PN) chief Vice Admiral Adeluis Bordado led the change-of-command ceremony at the Captain Moya Boat Landing, Naval Base Heracleo Alano in Cavite City.
Driz replaced Rear Adm. Alberto Carlos who was earlier appointed head of the Western Command which is based in Puerto Princesa, Palawan.
Driz, the current commander of the Naval Education, Training and Doctrine Command, is a member of the Philippine Military Academy Class of 1989 along with Carlos.
"I have trust and complete confidence in your ability to manage the Western Command, as you have done here at PhilFleet. Good luck with your new and most challenging assignment yet," Bordado said in a statement Tuesday night.
Bordado likewise congratulated Driz and wished him "good luck, and God bless on this new and exciting chapter of your career as the new Commander, Philippine Fleet."
Driz is a seasoned naval officer who has built a distinguished and remarkable career.
Carlos believes that his successor is a good leader deserving of this position, and an epitome of excellence capable of accomplishing great things.
On the other hand, Carlos, during his stint as Philippine Fleet commander, exemplified professional competence and dynamic leadership that led to the successful accomplishment of the command's mandated tasks and missions.
He also ensured the continuous conduct of naval patrol, sea control, and amphibious operations in order to defend the sovereignty of the country and its territorial waters from foreign aggression, intrusion, and exploitation.
Carlos' "Mission First, Men Always" doctrine enabled unprecedented changes in operational readiness, mission accomplishment, facilities improvement, and enrichment of the morale and welfare of Fleet sailors and aviators.
He was also awarded the Distinguished Service Medal for his meritorious and valuable services rendered in a position of major responsibility as commander of the Philippine Fleet from March 29, 2021 to January 19, 2022 and the Award of Presidential Security Service Ribbon for rendering duty with fidelity to effectively guard and protect His Excellency, the President of the Republic of the Philippines, Rodrigo Roa Duterte. (PNA)
Source: Business Diary Philippines