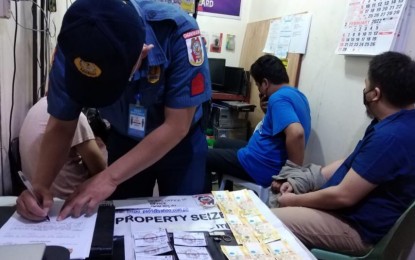 CAGAYAN DE ORO CITY – A group believed to be behind the proliferation of fake vaccination cards in Cagayan de Oro City and nearby areas was busted in an entrapment operation Monday.
Three men were arrested here after they were caught making fake coronavirus disease 2019 (Covid-19) vaccination cards.
Police identified the suspects as Acmad Macapaar Musa, 28; Jamaloden Ampaso Pacasum, 36, both from Marawi City and one Faisodin Dimakuta Comacasar, 32, from Marantao, Lanao del Sur.
The suspects were nabbed in an entrapment operation at the corner of Chavez and Pabayo Streets in Barangay 3. Recovered from the suspects were seven pieces of fake Covid-19 vaccination cards, a bundle of blank white cards, three laptops, two printers, and seven pieces of PHP500 bills.
Police Regional Office-10 spokesperson Lt. Col. Michelle Olaivar said further investigation is needed to identify other persons who also engage in making and selling fake vaccination cards.
"The police will continue to assist the concerned agencies implementing the health protocol that includes the conduct of operation to arrest these people who deliberately disregard the law and don't have respect for the people," she said.
Olaivar appealed to the public to never engage in the illegal activity.
"We hope that this operation will serve as an example. They are not helping the government. They are not helping the individual by selling fake vaccination cards. They are putting the health of a person and a community at risk," she said.
Earlier, the Philippine National Police warned that persons found faking or using a fake Covid-19 vaccination card may be charged, fined, or imprisoned.
Penalties include a fine of between PHP20,000 to PHP50,000, or imprisonment of one to six months, or both.
The suspects are now detained at the custodial facility in the city's Police Station 1. (PNA)
Source: Business Diary Philippines