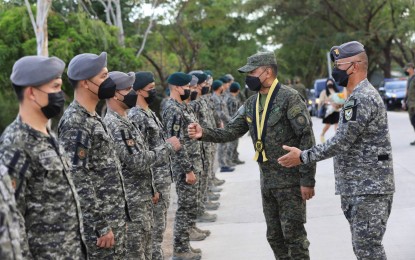 MANILA – Philippine Army (PA) commander, Lt. Gen. Romeo Brawner Jr., vowed to strengthen and allocate more resources to the Light Reaction Regiment (LRR), the Army's premier counter-terrorist unit, during his first visit to its headquarters in Fort Magsaysay, Palayan City, Nueva Ecija last February 11.
In a statement Sunday night, the Army chief told LRR officers and enlisted personnel that the PA leadership will provide "ample support to empower the regiment in mission accomplishment."
"Lt. Gen. Brawner likewise committed to strengthening the LRR's counter-terrorism expertise to secure the integrity of the state and to address all forms of threat," PA spokesperson, Col. Xerxes Trinidad, said.
Support refers to the necessary equipment, aside from the enhancement of skills of the soldiers so that they are prepared for the challenges of fighting and neutralizing these threats.
In the long term, Brawner said the thrust to equip soldiers with the resources, equipment, and skills would help propel the Army towards modernization and achieving its vision to be world-class by 2028.
He also hailed the LRR, known for the moniker "Tiradores de la Muerte" (Marksmen of Death), for their heroism and gallantry in the 2013 Zamboanga Siege and the 2017 battle for the liberation of Marawi City.
He recognized the LRR troops' efforts to ensure operational readiness by conducting regular training and urged them to become 'servant leaders' in the performance of their mandate to serve the people and secure the land.
Brawner reminded LRR troops of the two tasks of soldiers in the May 9 polls -- to exercise the right to vote and to ensure the safe and orderly conduct of polls.
"Stay healthy, stay safe and stay strong," Brawner said. (PNA)
Source: Business Diary Philippines