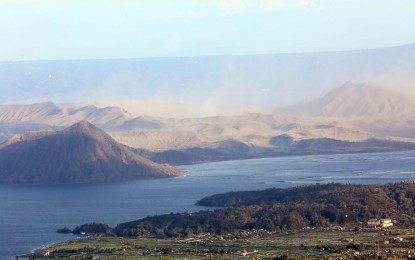 MANILA – Eight "very weak" phreatomagmatic bursts were recorded in the Taal Volcano, the Philippine Institute of Volcanology and Seismology (Phivolcs) reported Saturday.
In an advisory, Phivolcs said these phreatomagmatic bursts from the main crater occurred between 1:18 p.m. to 9:57 p.m., lasting 10 seconds to two minutes.
Phreatomagmatic eruptions were caused by the interaction of magma and water, and accompanied by distinct infrasound signals, according to Phivolcs.
Meanwhile, Phivolcs also detected steam-rich plumes 400 to 900 meters high.
Since the start of 2022, the average sulfur dioxide (SO2) flux is 10,668 tons per day, and the highest emission was 18,705 tons on January 27.
Despite the high SO2 emission, Phivolcs pointed out that almost no volcanic earthquake has been recorded in the Taal Volcano since Dec. 19, 2021.
Alert level 2 (increased unrest) remains hoisted over the Taal Volcano. This means gas-driven explosions and lethal accumulations or expulsions of gas threaten areas within and around the Taal Volcano Island (TVI).
Entry into TVI, the vicinities of main crater and Daang Kastila fissure, as well as activities on Taal Lake, must be strictly prohibited, Phivolcs said.
Local government officials are also advised to assess and strengthen the preparedness of previously evacuated barangays in case of renewed unrest. (PNA)
Source: Business Diary Philippines