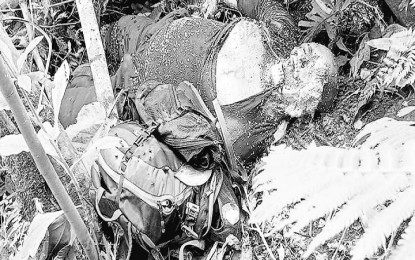 DAVAO CITY – Troops from the 1001st Infantry Brigade on Friday discovered an unidentified cadaver of a New People's Army (NPA) rebel, five days after they clashed with the communist group in Purok 6, Barangay Panoraon Maco, Davao de Oro.
In a statement on Saturday, Brig. Gen. Jesus Durante III, commander of the 1001st IB, said a concerned citizen reported a foul smell in the area which led the troops to the decomposing cadaver, along with an M16 rifle, a bandolier, a backpack with subversive documents, and personal belongings.
"It is quite ironic that the NPAs left one of their fatally wounded comrade behind. If only he called for help and surrendered, maybe he could still be alive. Just like what happened to Daniel Dellosa aka Axel wherein he was wounded, called the soldiers for help, and was saved by the responding troops," Durante said.
Dellosa, secretary of the Guerilla Front 2 Sub-Regional Committee of the NPA's Southern Mindanao Regional Command, sustained a gunshot wound to his leg after his group figured in an encounter with government troops in Sitio Barigyan, Golden Valley Mabini, Davao de Oro on Dec. 19, 2021.
Wounded and abandoned by his comrades, Dellosa initially tried to hide from the soldiers but eventually realized he still wanted to live.
Hearing the calm voices of the soldiers, he decided to show himself to his pursuers, who ended up helping him.
He is currently recuperating in the hospital.
"Once again, we renew our call to the remaining NPAs to surrender and avail the benefits of the Enhanced Comprehensive Local Integration Program (ECLIP), don't wait to suffer the same fate of your dead comrades, after all, they'll leave you once you become a liability," Durante added.
The 1001st Brigade figured in an armed encounter with the communist group three times already this year - January 5, 20, and 23.
It has resulted in the neutralization of Menandro Villanueva alias Bok, the third-highest ranked Communist Party of the Philippines (CPP) and the commander of the National Operations Command of the NPA.
The encounter also resulted in the recovery of high-powered firearms and various war materiel.
The Communist Party of the Philippines-NPA is listed as a terrorist organization by the United States, European Union, the United Kingdom, Australia, Canada, New Zealand, and the Philippines. (PNA)
Source: Business Diary Philippines