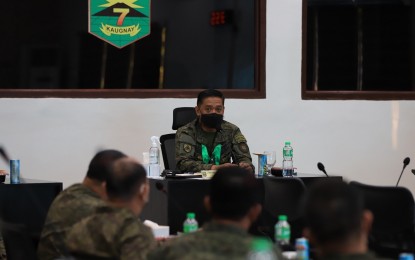 MANILA – The chief of the Philippine Army (PA) vowed to pour resources into the units in order to meet the June deadline of eradicating insurgency and threat groups.
During his visit to the 7th Infantry Division headquarters at the Fort Magsaysay in Nueva Ecija last Saturday, Army chief Lt. Gen. Romeo Brawner told officers and enlisted personnel he would be the "servant leader" kind by providing them with support and resources, a thrust of the "SERVE" (Soldiers, Enhance, Resources, Victorious, Elections) program.
"The style of leadership that we will apply while I am the CGPA (Commanding General Philippine Army) is servant leadership. We will be servants to the needs of our operating units," Brawner said Saturday.
In a statement issued Sunday, Army spokesperson Col. Xerxes Trinidad said Brawner also highlighted the need to take care of the soldiers' physical and mental health and enhance their skills and competencies.
"The CGPA vowed to provide units with support and resources to empower them in their sprint towards the June 2022 deadline set by the commander-in-chief to eradicate insurgency and other threat groups," Trinidad's statement read.
He added that enhancing the resources would help them win against threat groups, allowing troops to focus on ensuring orderly and peaceful elections in May.
Earlier, Brawner vowed to focus more efforts on ensuring that troops and their families are taken care. (PNA)
Source: Business Diary Philippines