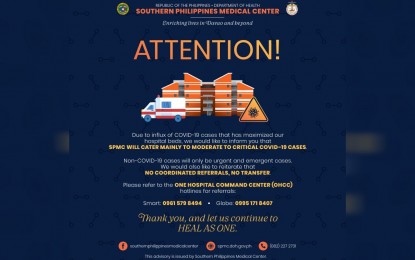 DAVAO CITY – Private hospitals here have begun admitting coronavirus disease 2019 (Covid-19) patients due to the growing number of infections, the city government said Saturday.
In a statement, Dr. Michelle Schlosser, spokesperson of the Davao City Covid-19 Task Force, attributed the opening of Covid beds in private hospitals to the surge in cases in the city that has overwhelmed the Southern Philippines Medical Center (SPMC).
"Admittedly, (the) SPMC is overwhelmed because it is the only public hospital in Davao City that caters to Covid-19 cases," Schlosser added.
Private hospitals, such as the Davao Doctors Hospital, San Pedro Hospital, Brokenshire Hospital, Metro Davao Medical and Research Center, Inc., and the Anda Riverview Medical Center, Inc., have opened their beds to Covid-19 cases.
Most of these hospitals have begun accepting Covid-19 patients after the SPMC's announcement of being swamped with patients.
On January 21, the SPMC announced that it would accept mainly moderate to critical Covid-19 cases due to the influx of patients and to improve hospital bed capacity.
"Non-Covid-19 cases will only be urgent and emergent cases. We would also like to reiterate that (there will be) no coordinated referrals, no transfer. All referrals will have to be coursed through the One Hospital Command Center hotline numbers (Smart) 0961-579-8494 or (Globe) 0995-171-8407," the SPMC said in its statement.
Schlosser said while the surge has overwhelmed the SPMC, other hospitals, city-managed isolation facilities, and Temporary Treatment and Monitoring Facilities (TTMFs) continue to accept patients.
"During a surge, we are permitted to do home isolation. Yes, our TTMFs are filling up but we also have allowed home isolation for those who meet the requirements," she said.
She also urged the Dabawenyos to get vaccinated to be protected as the coronavirus is still present and active.
As of January 28, an additional 901 new cases were recorded in Davao City, bringing the total number of active cases to 9,823, with 1,047 new recoveries and three deaths. (PNA)
Source: Business Diary Philippines