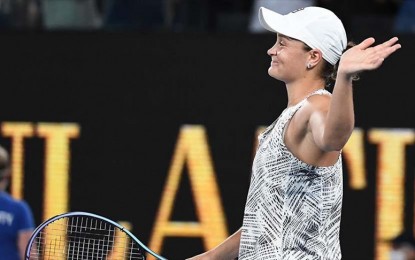 ANKARA – Ashleigh Barty won the 2022 Australian Open women's singles title on Saturday.
Barty won her maiden Australia open final by beating Danielle Collins of the US, who was playing in her first grand slam final, at the Rod Laver Arena in Melbourne.
Particularly owing the victory to her strong resistance in the second set, which she won 7-6 (7-2) with a tiebreaker, the world no.1 came back from 5-1 behind Collins. The first set had ended 6-3.
With this victory, Barty became the first Australian player to win the Australian Open women's singles title since 1978, after Chris O'Neil.
This title also marks the third grand slam championship for Barty as she won 2019 French Open and 2021 Wimbledon women's singles.
In the men's singles, Daniil Medvedev and Rafael Nadal will face off on Sunday in the final at the Rod Laver Arena to compete for the 2022 Australian Open champion.
Medvedev, the second-seed Russian player, defeated Greek Stefanos Tsitsipas, 7-6, 4-6, 6-4, 6-1, in the semifinals on Friday.
World No. 5 Rafael Nadal on Friday qualified for the final after beating seventh seed Matteo Berrettini of Italy with the sets of 6-3, 6-2, 3-6, and 6-3 to reach his 29th Grand Slam final at Melbourne's Rod Laver Arena on Friday.
This was the 500th victory in the Spaniard's hard court career.
He is level on 20 major titles with his rivals Roger Federer and Novak Djokovic. The 35-year-old aims to win his 21st Grand Slam.
The Spanish star claimed 20 Grand Slams throughout his glittering career, including 13 French Open titles, as well as a gold medal in the 2016 Rio Olympics. (Anadolu)
Source: Business Diary Philippines