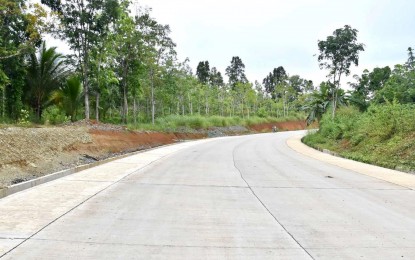 MANILA – Three core projects of the Improving Growth Corridors in Mindanao Road Sector Project (IGCMRSP) will be ready for inauguration early in the second quarter this year.
These are the Alicia-Malangas Road and Lutiman-Guicam-Olutanga Road, both in Zamboanga Sibugay, and the Tampilisan-Sandayong Road, located in Zamboanga del Norte, according to a news release on Saturday.
The 23.73-km. Alicia-Malangas Road with eight bridges has a physical accomplishment of 83 percent while the 29.70-km. Lutiman-Guicam-Olutanga Road is at 77 percent.
The Tampilisan-Sandayong Road, with a total length of 15.35 km. including three bridges, has a 95-percent completion status.
Department of Public Works and Highways (DPWH) Undersecretary Emil Sadain, in charge of Unified Project Management Office Operations, said the three roads provide rural connectivity crucial to poverty alleviation.
"Let us get things done as one of the flagship infrastructure projects of President Rodrigo Duterte's administration but never compromise the required quality and safety standards for all our roadworks," Sadain told engineers, contractors, and consultants during his inspection in Zamboanga Sibugay on Thursday.
Also inspected was the construction of the Guicam Bridge that will connect Barangay Guicam, Alicia to Barangay Hula-Hula, Mabuhay of Zamboanga Sibugay and aligned with the Lutiman-Guicam-Olutanga Road project leading to Olutanga Island.
Funded by a loan agreement between the Philippines and Asian Development Bank, the PHP25.26-billion IGCMRSP aims to enhance economic development and the peace and order situation.
The project covers the construction of seven road sub-projects with a total length of 230.22 km., including the 540-meter Guicam Bridge in the Zamboanga Peninsula and three other bridges spanning 1.79 km. in Tawi-Tawi.
Other than rural connectivity, infrastructure projects in the Zamboanga Peninsula also provide local employment opportunities, a much-needed safety net to reduce financial distress, especially amid the pandemic that has seen large-scale reverse migration to rural areas and provinces from cities. (PR)
Source: Business Diary Philippines