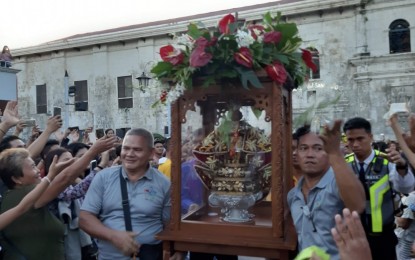 CEBU CITY– The city government here isplanning to hold the traditional Sinulog celebration in January next year without the participation of contingents from other provinces and welcome only vaccinated visitors amid the threat of the Omicron variant of coronavirus disease 2019 (Covid-19).
Mayor Michael Rama said in a radio interview on Tuesday that he is contemplating introducing "Sinulog in the household" where the traditional and religious celebration in honor of the Sto. Niño would be done right at the residences in this city.
He assured the public that the city will not hold Sinulog activities that could turn into a "superspreader event."
"We will do it hopefully on the assumption that we cannot take more than what we can chew. We have to look at it from the point of view of the movement of people during the celebration," the mayor said.
Rama said he would propose to the Emergency Operations Center (EOC) and health experts making the traditional Sinulog grand parade on the Sunday of the Fiesta Señor (Jan. 16, 2022) a combination of both virtual and in-person events.
"We have conceived a format of the Sinulog. But we are taking into consideration our vaccination rate, low positivity rate, the idea that only fully vaccinated will be allowed to dance, and the idea of not inviting outsiders as contingents and visiting devotees," he said in Cebuano.
The religious aspect of the fiesta would also be limited to fully vaccinated churchgoers during the Sinulog days, he also said, recalling that holy Masses during the pandemic were done via a virtual platform.
Meanwhile, Rama said the Cebu City government and Roman Catholic Church officials have agreed to allow only fully vaccinated people as attendees to the traditional nine-day Misa de Gallo leading to the Christmas Day solemn liturgy.
The police and EOC personnel will monitor parishes to ensure full implementation of the policy with the help of the police.
The mayor said more meetings would be held between the city government and the Archdiocese of Cebu to iron out more contingency measures to sustain the gains in the fight against Covid-19.(PNA)
Source: Business Diary Philippines