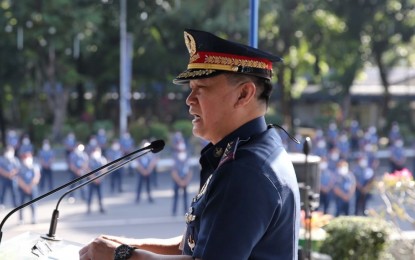 MANILA– Philippine National Police (PNP) chief, Gen. Dionardo Carlos, has formed a special investigation task group to look into the slaying of journalist Jesus Malabanan in Calbayog City, Samar on Wednesday evening.
Carlos said the police is "doing its best" to identify and arrest the perpetrator.
"We understand the call of the family and different groups to expedite the investigation of the case. These requests will not fall on deaf ears. Establishing the motive of the case can help us in going to the bottom of this. We just need the cooperation of the witnesses," Carlos said Thursday.
Forming the task group are teams from the Regional Criminal Investigation and Detection Group, Forensic Group, Regional Intelligence Unit, and the Calbayog City Police Station under the supervision of the Deputy Regional Director for Operations of Police Regional Office 8.
READ: PTFoMS probes newsman's killing in Samar
Initial investigation revealed that Malabanan, a correspondent for the Manila Standard, was watching television in his store at Barangay San Joaquin, Tinambacan District, when a gunman shot him in the head at around 6:30 p.m.
He was rushed to a nearby hospital but was declared dead on arrival. He was 58 years old.
Witnesses said they could not identify the gunman because it was dark outside but they saw him fleeing the crime scene using a motorcycle together with a companion.
Checkpoint operations in possible exit points were immediately conducted to intercept the suspects.
The task group is now obtaining copies of CCTV footage that may help in the investigation. It is also coordinating with the victim's family to check whether the killing was work related or personal, Carlos added. (PNA)
Source: Business Diary Philippines