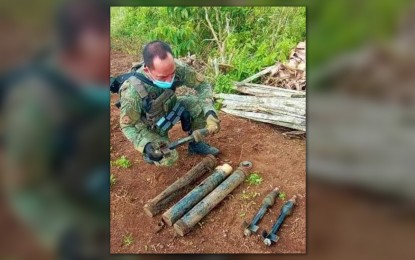 MIDSAYAP, North Cotabato – A farmer by chance has found three live anti-tank rockets in a dense thicket in a remote village in Alamada, North Cotabato, the Army here said Thursday.
Lt. Col. Edgardo Vilchez, the Army's 34th Infantry Battalion commander, said the unidentified farmer found the three tubes under decaying wood in the village of Rangayen, Alamada, on Wednesday afternoon.
"The B40 rockets or rocket-propelled grenades are set off using a shoulder-fired launcher," Vilchez said.
He said the farmer immediately alerted the soldiers manning a 34th IB detachment in the village so that it will not fall into the wrong hands.
The farmer told soldiers that he has no idea who owned the rifle grenades and why it was kept near his farm.
The explosives are now at the 34IB headquarters in Barangay Salunayan here for safekeeping. (PNA)
Source: Business Diary Philippines