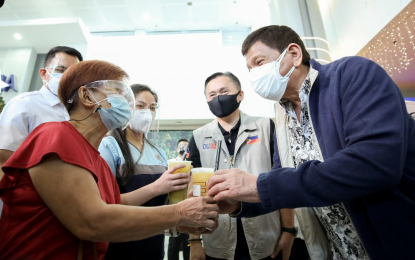 MANILA – President Rodrigo Duterte is hopeful that the second simultaneous vaccine drive against Covid-19 will finally persuade the unvaccinated to get their jabs.
Duterte made this call in a speech during the launch of Phase 2 of the "Bayanihan, Bakunahan" vaccination days in SM Megamall on Thursday.
"The highly successful first phase of Bayanihan, Bakunahan has not only brought us closer to our goal of population protection against Covid-19, it has also demonstrated what remarkable feats we can achieve if we are united, and working in solidarity," Duterte said in a speech delivered by Acting Presidential Spokesperson, Cabinet Secretary Karlo Nograles on his behalf.
Building on the accomplishments of the first Bayanihan, Bakunahan vaccination drive from November 29 to December 1, Duterte encouraged all stakeholders to replicate this success.
"As we launch the second phase of Bayanihan, Bakunahan, let us demonstrate the same enthusiasm, cooperation and resolve that made the first phase a success. Let us work to reach every unvaccinated Filipino so that we can give them the protection they need to stay in good health," he added.
Duterte attributed the success of the vaccination drive to front-liners, government agencies, local government units (LGUs), private partners, as well as the public.
He recognized the LGUs of Calabarzon region, the province of Laguna, Cebu City, the municipality of Tanza in Cavite, the municipality of Rodriguez (Rizal) and the municipality of Arayat (Pampanga) for having administered the highest number of jabs during the three-day national vaccination days.
He also commended the province of Tawi-Tawi and General Santos City for the highest improvement in their average jab rate between their pre-national vaccination days accomplishment and their output during the event.
"We sincerely acknowledge all your efforts in helping government overcome this pandemic. May this event further inspire our people to uphold their civic duty in curbing the spread of the coronavirus and in keeping our communities safe and health," he said.
The second phase of Bayanihan, Bakunahan is scheduled to be held from December 15-17.
Health Secretary Francisco Duque III said the second simultaneous vaccination drive will target around 7 million Filipinos, lower than the 9 million in the first run.
Bayanihan, Bakunahan Phase 2 will prioritize mostly second-dose vaccinations. However, walk-ins planning to get their first dose will also be accommodated.
Earlier, Nograles said the government aims to surpass its target of fully vaccinating 54 million Filipinos by yearend.
To date, over 38 million Filipinos have been fully inoculated against Covid-19. (PNA)


Source: Business Diary Philippines