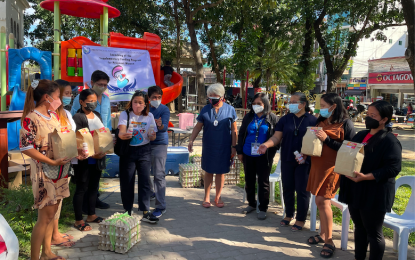 LAOAG CITY – The Ilocos Norte government will be providing a fresh supply of carabao's milk, eggs, nutribun (Filipino bread), and locally-grown squash and carrots to 538 pregnant women in the province to help meet their nutritional needs.
Selected beneficiaries, who are in the first trimester of pregnancy, on Tuesday joined the ceremonial launching of the feeding program at the Capitol interactive park and were given a bottle of chocolate milk to drink along with a take-home enhanced nutribun, and fresh eggs.
The 90-day program is in partnership with the Philippine Carabao Center and the Department of Science and Technology-assisted Bakers PH, the producer of enhanced nutribun, said provincial nutritionist Elma Irapta.
She added that this pioneering feeding program for pregnant women in the entire province hopes to achieve proper nutrition for mothers and their babies.
"I really commend this effort of the Provincial Nutrition Office that truly cares for the health of Ilokanos even from the womb," said Vice Governor Cecilia Araneta-Marcos as she graced the launching of the 90-day feeding program.
As a mom herself, the vice governor shared that being pregnant is probably the best experience for a woman though it is difficult.
While praying for everyone's safe pregnancy and delivery, she reminded the participants to eat healthy to keep the baby healthy as well.
Before the distribution and delivery of supplies to the pregnant women which will be done weekly through their barangay nutrition workers, Irapta said proper orientation will be conducted per municipality to ensure proper handling and storage of the food to be given to them.
For the fresh milk, considered as perishable, the Philippine Carabao Center said the one-week supply can last for 10 days if refrigerated.
The enhanced nutribun follows the same storage which must be consumed before its expiry date.
"Aside from increasing the nutritional needs of pregnant women, the feeding program is also a way of sustaining the livelihood of farmers and makers of nutribun," said Eldie Domingo, general manager of Bakers PH as he lauded the government's efforts to improve the health and economic well-being of the people. (PNA)



Source: Business Diary Philippines