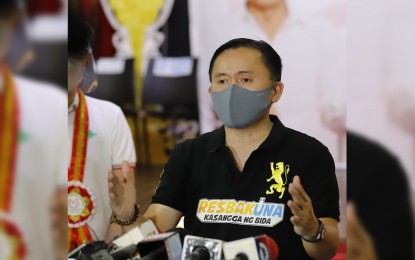 MANILA – Senator Christopher "Bong" Go lauded the approval of President Rodrigo Duterte for the provision of meals, accommodation, and transportation (MAT) benefits for qualified healthcare workers (HCWs) in the form of cash equivalents.
On Thursday, December 2, Go said the President has approved the release of the benefits in the form of cash equivalents to 423,314 HCWs nationwide. The benefits can now be released in cash equivalents of around PHP3,500 per month.
As Senator and Chair of the Senate Committee on Health and Demography, Go earlier urged the executive to provide immediate applicable benefits to health workers in the most convenient and efficient way possible.
"Mahirap maging healthcare worker lalo na sa panahon ngayon. Hindi basta-basta ang trabaho nila kaya dapat natin ibigay 'yung dapat ibigay na mga allowances na nararapat sa kanila bilang mga front-liners (It's hard to be a healthcare worker these days. Their work is not easy that's why we should give them allowances as front-liners)," Go said.
Notably, the Department of Health was instrumental in requesting the Office of the President for the monetization of MAT benefits, heeding the clamor of the healthcare workers.
Go supported this and pushed for the proposal saying, "kung ano ang pinaka-makakatulong at maginhawa sa kanila, iyon ang ibigay natin (We should give whatever assistance we can to them)."
To ensure that all HCWs are properly compensated, Go has been pushing for the immediate passage of Senate Bill No. 2421, which he authored and co-sponsored, to provide a fixed monthly allowance for HCWs during the state of emergency due to the pandemic.
The measure takes into consideration an earlier bill that Go filed and provides a Covid-19 Risk Allowance in lieu of the special risk allowance (SRA) and other financial compensation granted under the Bayanihan 2.
"Lahat naman ng healthcare workers na naka-duty ay maituturing na exposed sa banta ng Covid-19. Hindi nakikita ang kalaban na ito kung kaya't mahirap paghiwalayin pa kung sino ang exposed at sino ang hindi (Not all healthcare workers who are on duty are considered exposed to the threat of Covid-19. We can't see this enemy so it's difficult to classify who are exposed from those who are not)," Go said.
In 2019, the lawmaker was instrumental in the enactment of Republic Act No. 11466 or the "Salary Standardization Law 5". The measure gives all civilian government employees, including nurses, increased salaries broken down in tranches.
In the same year, he also ensured that enough funding was allotted for the implementation of the 2019 Supreme Court decision that upheld Section 32 of the Philippine Nursing Act of 2002, which sets the minimum salary grade of the Nurse 1 position at SG-15. (PR)
Source: Business Diary Philippines