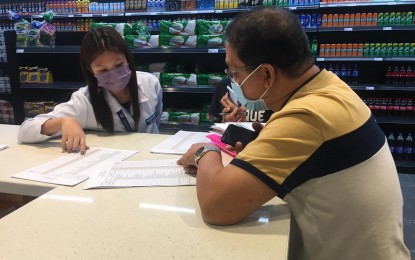 SAN JOSE DE BUENAVISTA, Antique – The Department of Trade and Industry (DTI) Antique provincial office is holding weekly monitoring of Noche Buena products to make sure there will be enough supply this Christmas season.
DTI Antique Trade and Industry Development Specialist Glen Fernando said in an interview Tuesday that more intensified monitoring of those products will be done this month as compared to their once a month regular survey of basic commodities
"We are now conducting monitoring of the major retail stores in Antique this December," he said.
The monitoring of five major stores in San Jose de Buenavista starting Dec. 3 showed enough supplies of goods as there are consumers who started to shop early, he said.
Fernando added that store owners were assured by their suppliers from Iloilo City and Aklan province that they could deliver goods anytime since there are no longer border restrictions under the Alert Level 2 status.
The retail store owners are reminded to always adhere to the latest Suggested Retail Price (SRP), which was issued on Nov. 23, 2021.
"We have already distributed copy of the SRP to the retail stores for their guidance," he said.
The retail stores, in adhering to the SRP, should not sell more than 10 percent of the stipulated price otherwise, they will be made to explain for the higher prices.
"Retail store owners should also keep their official receipt of purchase so that they would have proof as to why they are selling goods for higher price," Fernando said.
Noche Buena products like ham, quezo de bola, and sandwich spread have adjusted prices, or their prices increased based on the Nov. 23 SRP that could be due to the hike in their transportation cost or price of raw material. (PNA)
Source: Business Diary Philippines