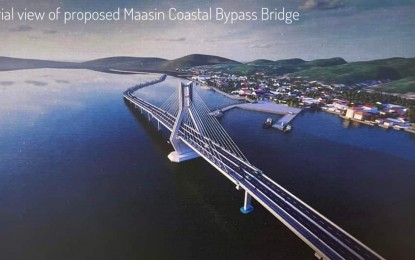 TACLOBAN CITY - The Department of Public Works and Highways (DPWH) has identified four major infrastructure projects in Eastern Visayas that will be implemented in the next two to five years.
Long-term projects are the 15-kilometer (km) Samar Pacific Coastal Road (SPCR) project phase 2, construction of 700-meter Iconic Liloan Bridge, construction of 1.1 km Iconic Maasin Coastal Bypass Bridge, and the building of 23-km Bohol - Leyte Link Bridge.
In a report released by the DPWH on Wednesday, the SPCR include two long-span bridges with a total length of 1.4 km. The feasibility study is already completed and the project proposal is now under preparation for submission to the National Economic and Development Authority.
SPCR project phase 2 will complement the ongoing 11.60-km SPCR phase 1 connecting the pacific towns from the Simora Junction in Laoang town, traverses to the remote villages of Laoang and Palapag towns. At 59 percent completed, the first phase 1 also covers the construction of three bridges.
Meanwhile, the concept paper is now being prepared for Liloan Bridge while the Maasin Coastal Bypass Bridge is up for discussion with the Export-Import Bank of Korea.
For the Bohol - Leyte Link Bridge, officials will revisit the Asian Development Bank-funded pre-feasibility study.
The government has yet to come up with cost estimates for these four long-term projects.
DPWH Acting Secretary Roger Mercado said in a statement that he has tapped the Unified Project Management Office (UPMO) Operations headed by Undersecretary Emil Sadain to assist the regional office in preparing the construction of a stronger regional road network.
"In my inspection, I saw the need for a significant upgrade of roads and bridges to improve connectivity and address problem of isolation especially in far-flung areas of the region," Mercado said.
Mercado, who hails from Southern Leyte, identified the insufficient infrastructure as a major constraint to the economic growth and poverty reduction particularly in Southern Leyte and Northern Samar. (PNA)
Source: Business Diary Philippines