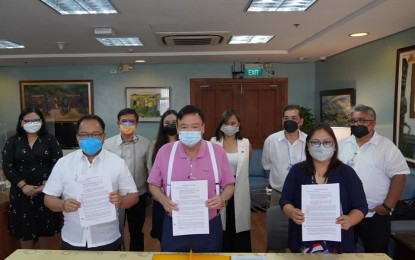 ILOILO CITY – The Bureau of Investments (BOI) will be assisting Iloilo City to attract investors to boost its economic recovery amid the threat of the virus.
The BOI's assistance to the city was formalized after the signing of the Memorandum of Agreement (MOA) held here on Monday.
"This is significant because coming from pandemic, we need to build more businesses and open opportunities for investments, especially in areas that are sustainable such as food, manufacturing," said Iloilo City Local Local Economic and Investment Promotion Officer Velma Jane Lao, in an interview on Tuesday.
She said under the MOA, the BOI, an attached agency of the Department of Trade and Industry (DTI), will assist in the promotion of this city as an investment destination by providing potential investors with relevant information on priority areas and available incentives to qualified locators as provided for in the Local Investment Incentive Code (LIIC).
If there are investors interested to relocate outside of Manila, then Iloilo City will be among those that will be referred to them, she added.
BOI will also help in the implementation of policies to promote ease of doing business, assist in the businesses' submission and application for business permits, and their other concerns with the city government.
The signatories to the MOA included Iloilo City Mayor Jerry P. Treñas and DTI Undersecretary and BOI Managing Head Ceferino S. Rodolfo and witnessed by BOI Executive Director Lawyer Bobby G. Fondevilla and Lao.
Meanwhile, Treñas during the signing said the agreement would pave the way for a closer relationship with the national government agency allowing investors in the city to avail of incentives for BOI-registered companies.
He said that among the target investments of the city are the public-private-partnership (PPP) for the slaughterhouse, markets, and proposed reclamation project.
The city is also ready to welcome business process outsourcing firms that are interested to relocate to the area. (PNA)



Source: Business Diary Philippines