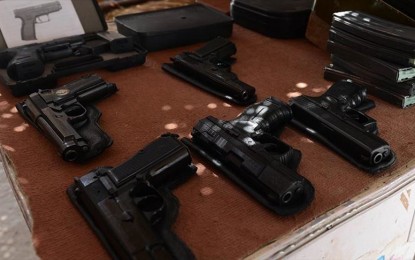 MANILA – The Philippine National Police (PNP) on Thursday assured that applications for election gun ban exemption will undergo a stringent screening process that may take several days.
"We would like to make it clear that following the submission of application, it will undergo a process including threat assessment which shall be determined together with the members of the Joint Security and Coordinating Council (JSCC)," PNP chief Gen. Dionardo Carlos said in a statement.
Based on rules set by the Commission on Elections (Comelec), the process will start once the applicants have accomplished the digitized Microsoft (MS) forms and the hard copies of the same shall be sent to the Committee on the Ban on Firearms and Security Personnel (CBFSP) with a self-addressed prepaid return envelope.
Once MS Forms have generated a notification e-mail to the applicant and CBFSP, the CBFSP secretariat shall access the file containing the list of submitted applications received and download the same including the attachments and shall conduct a pre-evaluation of the documents.
If submitted documents are complete, the secretariat will assign an application number and compute for the administrative processing fee, if applicable. If it lacks document/s, the applicant will be asked to either submit the lacking documents or re-submit the application.
If there is no documentary concern, the secretariat shall send an e-mail to the applicant with an order of payment and instructions on how to pay the fee. The application shall be forwarded to the PNP, Armed Forces of the Philippines, and the CBFSP for the start of the evaluation process.
The CBFSP secretariat will then transmit through email the application together with all the documentary requirements to the respective evaluating units of the committee, the AFP and PNP. The application will be evaluated simultaneously within three working days from receipt.
The CBFSP consolidating team shall collate the results of the evaluation while its overall supervisor will submit a recommendation to the committee.
If approved, the secretariat will prepare the certificate of authority to be signed by the committee's chairperson and the PNP, AFP counterparts. If denied, the applicant will be given a notice of denial.
Carlos said the PNP unit that will assist in the threat assessment will base the merits of the application if there is a clear and present danger that will put the life of the applicant at high risk.
The PNP on Wednesday started accepting applications for those who want to be exempted from the ban on firearms and security detail for next year's elections.
The application period for the issuance of the certification of authority for gun ban exemption will run until May 25, 2022. (PNA)
Source: Business Diary Philippines