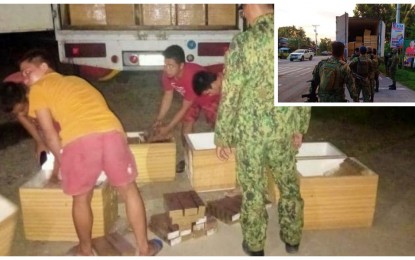 ALEOSAN, North Cotabato – Joint military and police personnel manning a checkpoint have seized almost PHP900,000 worth of smuggled cigarettes stuffed inside polystyrene boxes in Barangay Bagolibas here on Sunday.
Citing reports from the North Cotabato police office, Brig. Gen. Alexander Tagum, police director for Region-12, said Monday the PHP890,000 worth of smuggled cigarettes were found inside a closed van-type fish delivery truck passing through the area.
"Three men, all occupants of the delivery truck, were arrested in the same incident shortly before dusk Sunday," Tagum said in a statement.
An unlicensed .45-caliber pistol was also found in the possession of the truck occupants, he added.
He identified those arrested as Mark Barte Villarin, 37; his brother Gerald, 21; and Abdulhaber Maladia Mohammad, 20, all from Zamboanga City.
He said the suspects failed to present legal documents on the transport of the cigarettes and possession of a firearm.
On November 13, police manning checkpoints in Barangay Bulatukan, Makilala, North Cotabato also seized some PHP5 million worth of smuggled cigarettes and arrested three men, one of whom also had an unlicensed .45-caliber pistol. (PNA)
Source: Business Diary Philippines