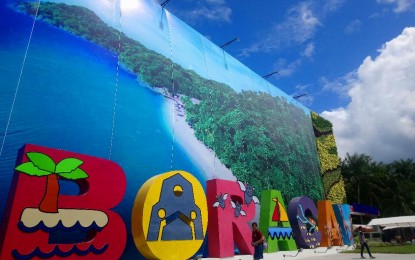 MANILA – The Department of Tourism (DOT) on Wednesday asked local government units (LGUs) to simplify their entry requirements, following reports that some tourists in Boracay have missed their flights for failing to get the required QR codes on time.
"The DOT expresses its concern on the numerous complaints related to the delayed processing of visitors' requirements, leading to missed flights and disrupted travel schedules, particularly from leisure travelers applying for entry to the municipality of Malay that covers the island of Boracay," the department said.
The DOT has reached out to the concerned LGU and appealed to simplify the travel requirements for visitors.
It said streamlining services for tourists is a "vital component in ensuring the recovery of the island's tourism industry and workforce that have been severely affected by the ongoing Covid-19 pandemic."
"While the department understands the challenges and restrictions that hamper the LGUs, it notes the importance of timely facilitation of such requests imposed on the visitors by the LGUs themselves," the DOT added.
The processing of entry requirements for local tourists falls under the jurisdiction of the LGU.
Starting November 16, Boracay scrapped its swab test requirement for fully vaccinated leisure tourists but still requires visitors to submit such documents as a VaxCert PH certification or an LGU-issued vaccination certificate.
On top of these, they must secure a confirmation through Aklan province, which will then send a QR code that will be used to enter the resort island.
In a statement on November 15, the Malay-Boracay Tourism Office advised concerned tourists to refer to the provincial office of Aklan for QR concerns.
"(The) Malay Tourism Office nor the 24/7 Boracay Tourist Info Hotline does not have the access to the Validating Office of Aklan who processes tourists' QR code," it said.
The DOT reminded the LGUs that the pace by which the tourism sector could bounce back from all its losses "will be largely determined by the policies that will be implemented by the national and local government, and the participation and cooperation of its tourism stakeholders and the traveling public." (PNA)
Source: Business Diary Philippines