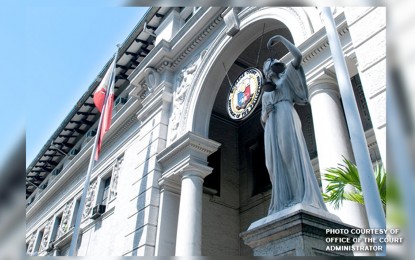 MANILA – The Supreme Court (SC) upheld an appellate court's verdict, sentencing three men in San Mateo, Rizal to reclusion perpetua or a maximum of 40 years in jail for beating and killing their neighbor who refused an offered drink.
In its resolution released on Nov. 8, the high court affirmed the decision of the Court of Appels finding Alberto Serrano III, Ernani Andres, and Salvador Telig guilty of murder of Jackson Camilon in October 2008.
Imelda Sayo, an eyewitness, said she was on her way to the market at 2 a.m. at an alley in Barangay Ampid, San Mateo, Rizal, with the victim and another person, walking ahead of her.
She said the two headed to a store where they bought cigarettes and where the three accused were having a drinking spree.
The three men, according to the court's records, were celebrating the anniversary of their group which they called "Adakrab", an anagram of the term "barkada."
The three repeatedly offered a drink to the victim which the latter refused causing the inebriated men to start punching and hitting Camilon with a lead pipe. While the victim was on the ground, one of the men pulled a firearm and shot Camilon in the head.
The men in their defense denied their part in the killing and painted the victim as a neighborhood toughie known for being a rugby glue addict.
"Denial is the weakest of all defenses and cannot prevail over the positive identification of the accused as the perpetrator of the crime. More, for alibi to prosper, it is not enough for the accused to prove that he was in another place when the crime was committed as he must likewise prove that it was physically impossible for him to be present at the crime scene or its immediate vicinity at the time of its commission," the court said in affirming the conviction.
"Suffice it to state that the trial court's assessment of the credibility of the witnesses, the probative weight of their testimonies and the conclusions drawn from these factual findings are accorded the highest respect by the appellate court, whose review power is limited to the records of the case," the SC said. (PNA)
Source: Business Diary Philippines