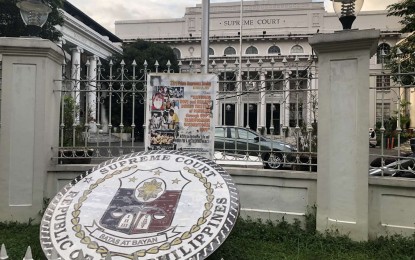 MANILA – The Supreme Court (SC) has turned down a petition filed by a lawmaker questioning his indictment before the Ombudsman in connection with anomalies in the disposition of the priority development assistance fund (PDAF) or pork barrel, a discretionary fund under the control of lawmakers.
In a resolution dated July 28 and uploaded online by the SC on Oct. 29, its Second Division dismissed the petition filed by Rep. Rufus B. Rodriguez.
Rodriguez had sued the National Bureau of Investigation under then-director Virgilio Mendez and former Department of Justice Secretary and now senator Leila de Lima for including him in the NBI's executive summary of complaints dated Aug. 7, 2015.
He was being probed on alleged PDAF scam mastermind Janet Lim Napoles and for subsequently including him in charges filed before the Ombudsman.
The NBI had claimed lawmakers used their PDAF allotments in illegal transactions with Napoles' non-governmental organizations and profited by as much as 60 percent of amounts from the simulated disbursements and utilization of their PDAF to ghost NGOs.
The NBI itself noted that a number of lawmakers, including Rodriguez, requested the Questioned Documents Division (QDD) of the NBI to examine their alleged signatures in the documents used in the release of the PDAF funds to the NGOs.
The NBI-QDD found that in several documents, the signatures did not match the lawmaker's specimen signatures but said the findings are not conclusive and binding upon the results of the investigation.
It also said the findings will still be subject to the scrutiny of the Sandiganbayan if the Ombudsman decides to file the criminal case with the anti-graft court.
The NBI also said malversation may also be committed through negligence, in which case the signatures of the lawmakers are not necessary to prove that they allowed, through their negligence, the misappropriation and misuse of the public funds entrusted to them.
In dismissing Rodriguez' suit, the SC said "there being no grave abuse of discretion amounting to lack or excess of jurisdiction on the part of the NBI in conducting an investigation on the person of the petitioner as to his participation in the Napoles PDAF scam, the court finds no ground to nullify the NBI's investigation."
"In the same vein, the Court finds no grave abuse of discretion amounting to lack or excess of jurisdiction on the part of the NBI and the DOJ in filing the letter-complaints against petitioners (Rodriguez), among others, with the Ombudsman," it added.
The SC said it "finds no merit" in Rodriguez's claim that the NBI and the DOJ went against its own internal rules by refusing to issue a subpoena and take or require his sworn statements.
"There is not even a vested right granted by law to any person under investigation to participate in the proceedings before the NBI," the court said, adding that the findings of the NBI were still recommendatory and still subject to the Ombudsman's actions. (PNA)
Source: Business Diary Philippines