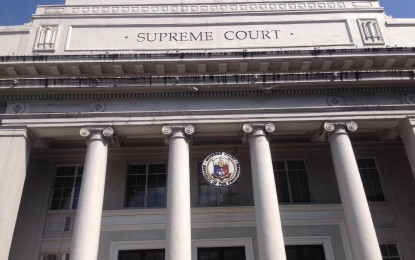 MANILA – Chief Justice Alexander Gesmundo on Friday announced the Supreme Court's (SC) return to full operational capacity under a flexible working arrangement which includes allowing limited personal filing before the tribunal.
In Memorandum Order No. 110-2021, Gesmundo said "all employees of all offices in the Supreme Court are now required to report on-site during the period of November 22 to November 30, 2021" after Metro Manila has been placed under Alert Level 2, which states that government agencies and instrumentalities should be fully operational.
Under the memorandum, the SC will be opened on Saturdays for the filing of documents from litigants but said court rules for the purposes of computing deadlines for filing "shall still govern".
"The parties are (merely) given the option to file their pleadings on Saturdays. Personal filing shall continue to be allowed but only for initiatory pleadings such as motions for extension of time to file petition, petitions for review, or other original petitions requiring payment of docket fees. All other pleadings and court submissions shall continue to be filed electronically under existing e-filing guidelines," the court said.
It also ordered a flexible working schedule and shifting for purposes of observing physical distancing, considering the limitation of office spaces.
Under the shifting plan, one-half of the workforce shall report on Mondays, Tuesdays, and Wednesdays while the other half shall report on Thursdays, Fridays, and Saturdays.
On days when workers are not scheduled to report to the office will be under work from home arrangements to complete the mandatory 40-hour workweek.
Employees under work from home arrangement "are advised to stay home except for extremely urgent personal necessities," with the official time of work from 8 a.m. to 4:30 p.m.
Workers reporting on-site "must not have even the slightest symptoms," the tribunal said, adding that they must be monitored constantly for health issues. (PNA)
Source: Business Diary Philippines